Portland Oregon Wedding Officiants
Wedding vows: heartfelt words that express your deepest feelings. The words you exchange with your partner live in your hearts forever. They are the focus of your ceremony, and if you're unsure how to put your feeling into words, Portland, Oregon wedding officiants are here to guide you.
Read More
No matter your faith or beliefs, you'll need an officiant or minister to conduct your wedding ceremony. From your engagement to the wedding day, a wedding officiant will get to know you, so they can create a ceremony that's uniquely yours. They'll work with you to make sure things go just as you hoped they would. If you're writing your own vows, your officiant will be there to keep you on track, or they can prepare special words that are just for you and your partner.
Officiants help with more than just your ceremony. Marriage is a lifelong journey, and many couples seek counseling before the wedding. Portland wedding officiants provide pre-marital counseling and guidance prior to the wedding day. They ensure that you and your partner say your vows with clear commitment and intent.
Will your wedding service be traditional, contemporary or alternative in nature? Our experts help you conduct your ceremony exactly as you envision it. Looking for a LGBTQ marriage service? No problem. Portland has the perfect officiant for you. Many officiants in Portland offer elopement service as well!
Whether you're eloping at the courthouse or saying your vows in front of hundreds of guests, your Portland wedding officiant will be there every step of the way to make sure your wedding ceremony is the absolute best!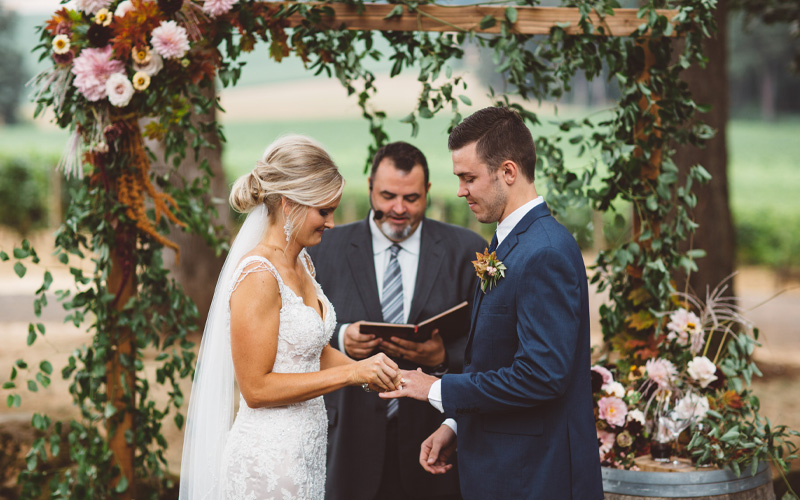 EC Matrimony
PO Box 1372
Beaverton, OR 97005
(503) 819-4257
Award-winning, 5-star rated wedding officiant who will help you create a unique, personal wedding ceremony. Contact today!!
www.ecmatrimony.com
A Beautiful Wedding is Yours - Wedding Officiant
3427 SE 16th Ave.
Portland, OR 97202
 (971) 353-1394
Carroll R. Myers - Pastor
1011 SE 98th Ave.
Vancouver, WA 98664
(360) 607-8908
Cathy Hume - Minister & Wedding Officiant
Portland, OR
(503) 957-9942
Chanelle Carlin Weddings of Oregon
52895 NW 7th St.
Scappoose, OR 97056
(509) 449-0511
Holly Pruett - Life-Cycle Celebrant
Portland, OR
(503) 348-0967
Jennifer Nies - Wedding Officiant
Portland, OR
(703) 855-8856
Loretta Rossini - Wedding Officiant
P.O. Box 820086
Vancouver, WA 98682
(503) 522-7303
Maureen Haley - Wedding Officiant
10700 SW Beaverton Hillsdale Hwy.Building 3, Suite 560
Beaverton, OR 97005
(503) 888-9876
Melissa Coe Ceremonies
Portland, OR
(503) 803-2385
Old Ways Ceremonies
Portland, OR
(971) 344-3337
Radiant Touch Weddings
18186 S Chalet Dr.
Oregon City, OR 97045
(971) 570-5121
Rev. Dee Richardson - Wedding Officiant
7140 SW Fir Loop, Suite 210
Portland, OR 97223
(503) 998-7481
Rev. Myrna Yoder
1523 NE Skidmore St.
Portland, OR 97211
(503) 407-5264
Rev. Rose Woodruff - Wedding Officiant
Portland, OR
(360) 356-4986
Rooted & Wild: Spirited Ceremonies
Portland, OR
(971) 319-2681
The Wedding Officiant - Heather Ann Mack
Hillsboro, OR
(503) 206-9612
Wedded Your Way - Officiant Services
9860 SW Hall Blvd., Suite C-4
Portland, OR 97223
(503) 628-8518
Weddings by Pastor Sandi
2541 SE 31st Ave.
Portland, OR 97202
(208) 724-5462
Young Hip & Married - Wedding Officiants & Relationship Coaching
3303 N Mississippi Ave., Suite 535
Portland, OR 97227
(866) 726-9510 
Your Personal Ceremony
5707 NE 15th Ave.
Portland, OR 97211
(503) 679-5933