Portland Oregon Lodging, Accommodations, Hotels & Resorts for Wedding Guests
If you're getting married, chances are many of your guests will be traveling to attend your wedding. But where will they all stay? In Portland, the backdrop for your wedding can be a skyscraper, garden, park, or even a boat on the Willamette River, and there are as many options for lodging as there are for your ceremony.
Read More
Of course, there are countless luxurious accommodations in the heart of Portland, but the options don't end there! Portland is nestled in the Willamette Valley. With both the Columbia Gorge and the Oregon Coast in close reach, even if you're getting married in the city, you don't have to stay here. We want to connect you and your guests with the best lodging in the city and beyond.
When you have guests attending the wedding from near and far, pre-booked lodging is a must! Portland is a popular city, and rooms fill up fast. Portland hotels offer group rates and even guest shuttle service. If you plan ahead, you can count on great booking deals so that you can guarantee availability for your entire wedding party. We have pet-friendly lodging too, so don't hesitate to bring your furry best friend along! Portland hotels also offer concierge, workout facilities, luxurious spa services, private pools, hot tubs, and more. When you stay in Portland, you'll be pleased to find that we have no shortage of luxury amenities.
From five-star hotels to intimate inns, from quaint B&Bs to upscale resorts and vacation rentals, we have it all. In Portland, you'll find the perfect lodging for you and your guests to rest your heads before and after the wedding. No matter where you want to stay in Portland, we're certain that you'll find the perfect lodging for your taste!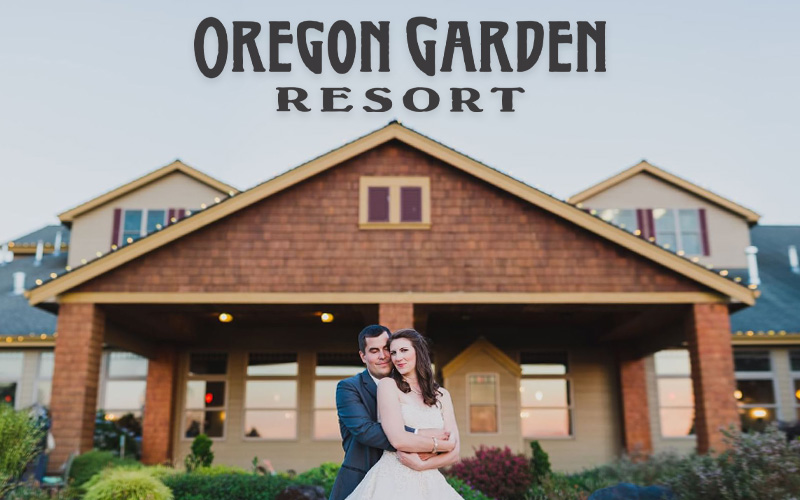 Oregon Garden Resort
895 W. Main Street
Silverton, OR 97381
(503) 874-2500
Our stunning Wedding Garden and romantic Orchid Ballroom are the perfect settings for your outdoor or indoor wedding. Our venue, nestled in the beautiful Willamette Valley just minutes east of Salem and an hour south of Portland, offers a serene and intimate atmosphere that is ideal for a romantic and inclusive celebration.
www.oregongardenresort.com/weddings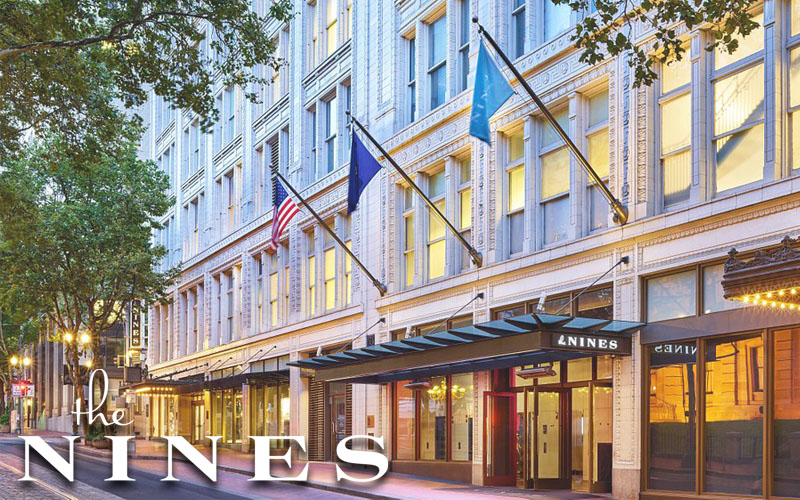 The Nines - A Luxury Collection Hotel
525 SW Morrison St.
Portland, OR 97204
(503) 222-9996
Poised in the heart of the city center at the top of one of Portland's most beloved landmarks, the stately Meier & Frank Building, the Nines honors the structures storied past, both in its striking decor and impeccable service. This luxury hotel is an ideal spot to host your out of town guests, and your dream wedding. Whether you are planning an intimate ceremony or a grand celebration, let our Wedding Specialists custom design a specialty menu, with you and your guests in mind. Your special day is sure to be an enchanting and unforgettable event, leaving lasting memories.
www.thenines.com
Ace Hotel
1022 SW Harvey Milk St.
Portland, OR 97205
(503) 228-2277
Benson Hotel
309 SW Broadway
Portland, OR 97205
(503) 228-2000
Best Western - Inn At The Meadows
1215 N Hayden Meadows Dr.
Portland, OR 97217
(503) 286-9600
Best Western Plus - Cascade Inn & Suites
23525 NE Halsey St.
Troutdale, OR 97060
(503) 491-9700
Best Western Plus - Northwind Inn & Suites
16105 SW Pacific Hwy.
Tigard, OR 97224
(503) 431-2100
Best Western Plus - Portland Airport Hotel and Suites
11938 NE Airport Way
Portland, OR 97220
(503) 251-9991
Courtyard by Marriott - Clackamas
9300 SE Sunnybrook Blvd.
Clackamas, OR 97015
(503) 652-2900
Courtyard By Marriott - Portland City Center
550 SW Oak St.
Portland, OR 97214
(503) 505-5000
Crowne Plaza Hotel - Downtown Portland
1441 NE 2nd Ave.
Portland, OR 97232
(503) 233-2401
Crowne Plaza Hotel - Lake Oswego
14811 Kruse Oaks Dr.
Lake Oswego, OR 97035
(503) 624-8400
DoubleTree Hotel - Beaverton
15402 NW Cornell Rd.
Beaverton, OR 97006
(503) 614-8100
DoubleTree Hotel - Portland
1000 NE Multnomah St.
Portland, OR 97232
(503) 281-6111
Element - Beaverton
15655 NW Blueridge Dr.
Beaverton, OR 97006
(971) 329-4100
Embassy Suites - Downtown Portland
319 SW Pine St.
Portland, OR 97204
(503) 279-9000
Hampton Inn - Clackamas
9040 SE Adams St.
Clackamas, OR 97015
(503) 655-7900
Heathman Hotel
1001 SW Broadway
Portland, OR 97205
(503) 241-4100
Hilton Garden Inn - Beaverton
15520 NW Gateway Ct.
Beaverton, OR 97006
(503) 439-1717
Hilton Garden Inn - Lake Oswego
14850 Kruse Oaks Dr.
Lake Oswego, OR 97035
(503) 684-8900
Holiday Inn Express & Suites - Portland NW
2333 NW Vaughn St.
Portland, OR 97210
(503) 484-1100
Holiday Inn Express & Suites - Troutdale
477 NW Phoenix Dr.
Troutdale, OR 97060
(503) 669-6500
Holiday Inn Portland - Columbia Riverfront
909 N Hayden Island Dr.
Portland, OR 97217
(503) 283-4466
Homewood Suites by Hilton - Portland Airport
11936 NE Glenn Widing Dr.
Portland, OR 97220
(503) 262-8888
Hotel deLuxe
729 SW 15th Ave.
Portland, OR 97205
(503) 219-2094
Hotel Lucia
400 SW Broadway
Portland, OR 97205
(503) 225-1717
Jupiter Hotel
910 E Burnside St.
Portland, OR 97214
(503) 230-9200
Kimpton Hotel Vintage - Portland
422 SW Broadway St.
Portland, OR 97205
(503) 228-1212
Kimpton RiverPlace Hotel
1510 S Harbor Way
Portland, OR 97201
(503) 228-3233
La Quinta Inn & Suites - Portland Airport
11207 NE Holman St.
Portland, OR 97220
(503) 382-3820
Mark Spencer Hotel
409 SW 11th Ave.
Portland, OR 97205
(503) 224-3293
McMenamins Crystal Hotel & Ballroom
303 SW 12th Ave.
Portland, OR 97205
(503) 972-2670
McMenamins Grand Lodge
3505 Pacific Ave.
Forest Grove, OR 97116
(503) 992-9533
McMenamins Hotel Oregon
310 NE Evans St.
McMinnville, OR 97128
(503) 472-8427
McMenamins Kennedy School
5736 NE 33rd Ave.
Portland, OR 97211
(503) 249-3983
Moxy Hotel
585 SW 10th Ave.
Portland, OR 97205
(971) 339-4717
River's Edge Hotel & Spa
0455 SW Hamilton Ct.
Portland, OR 97239
(503) 802-5800
Sentinel Hotel
614 SW 11th Ave.
Portland, OR 97205
(503) 224-3400
Silver Cloud Hotel - Portland
2426 NW Vaughn St.
Portland, OR 97210
(503) 242-2400
Skamania Lodge
1131 SW Skamania Lodge Way
Stevenson, WA 98648
(509) 314-4177
The Bidwell Marriott - Portland
520 SW Broadway
Portland, OR 97205
(503) 226-6300
The Paramount Hotel
808 SW Taylor St.
Portland, OR 97205
(503) 223-9900
The Porter Hotel
1355 SW 2nd Ave.
Portland, OR 97201
(503) 306-4800
The Society Hotel
203 NW 3rd Ave.
Portland, OR 97209
(503) 445-0444