Portland Oregon Restaurants & Wedding Rehearsal Dinners
You've worked so hard to plan the wedding, and it's almost here! The rehearsal dinner is one last celebration before the wedding with family and friends, and is a time for fun, good drinks, and even better food. But where to host it? Lucky for you, Portland, Oregon is full of awesome restaurants and rental spaces.
Read More
If you have a large wedding party, then you'll need space. Many of your favorite eating spots have large private rooms available for rent. Even if you don't have a big budget, renting a private dining space in advance is affordable and always a good idea. Many restaurants offer great deals on group meals, and lots of event venues also cater!
Portland, Oregon restaurants and venues offer a wide range of cuisine sure to please your palate. Have a restricted diet? No problem! Want a large range of ethnic foods to choose from? Portland's is home to a vast selection of ethnic restaurants to accommodate you. No matter what you want to serve, we've got just what you're looking for. Whether you're hosting a small catered dinner or a large group buffet, you'll find the perfect place to wine and dine in Portland, Oregon.
Portland restaurants are renown for their gourmet foods. We use local ingredients and always serve what's in season. We offer gluten free, organic, and non-GMO options too. No matter what your taste, we have fresh local ingredients sure to impress. The menu options are endless! Whether you want a simple buffet or a formal dinner, you can be sure that the food will be fresh and delicious.
At Portland Weddings, you can find the perfect place to host your rehearsal dinner, bridal luncheon or brunch in Portland, Oregon.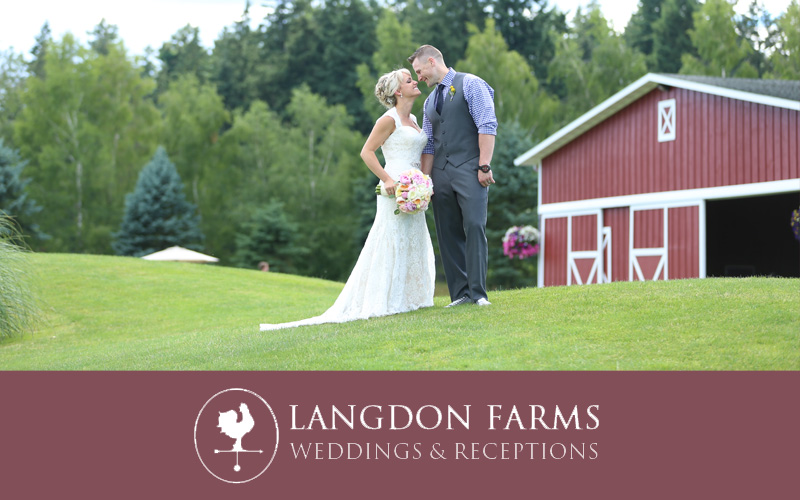 Langdon Farms Golf Club
24377 NE Airport Rd.
Aurora, OR 97002
(503) 678-4653
Langdon Farms offers a beautiful country oasis in the midst of the Portland-Metro area. Our farmhouse-inspired architecture, ranch style fences and serene surroundings create a picture-perfect venue. Whether you are drawn by the charm of a barn wedding, or captivated by the emerald golf greens and vibrant flowers, Langdon Farms is a venue unlike any other.
www.langdonfarms.com
23 Hoyt
529 NW 23rd Ave.
Portland, OR 97210
(503) 445-7400
Andina Restaurant
1314 NW Glisan St.
Portland, OR 97209
(503) 228-9535
Arden Restaurant
417 NW 10th Ave.
Portland, OR 97209
(503) 206-6097
Bar West
1221 NW 21st Ave.
Portland, OR 97209
(503) 208-2852
Brix Tavern
1338 NW Hoyt St.
Portland, OR 97209
(503) 943-5995
Bullard Tavern
813 SW Alder St.
Portland, OR 97205
(503) 222-1670
Cabezon
5200 NE Sacramento St.
Portland, OR 97213
(503) 284-6617
Celilo Restaurant and Bar
16 Oak Street
Hood River OR 97031
(541) 386-5710
Chart House Portland
5700 SW Terwilliger Blvd.
Portland, OR 97239
(503) 246-6963
Clarklewis
1001 SE Water Ave.
Portland, OR 97214
(503) 235-2294
Coopers Hall
404 SE 6th Ave.
Portland, OR 97214
(503) 719-7000
Dame
2930 NE Killingsworth St.
Portland, OR 97211
(503) 227-2669
Departure Restaurant + Lounge
525 SW Morrison St., 15th Floor
Portland, OR 97204
(503) 802-5370
El Gaucho
319 SW Broadway
Portland, OR 97205
(503) 227-8794
ENSO Winery
1416 SE Stark St.
Portland, OR 97214
(503) 683-3676
Firehouse Restaurant
711 NE Dekum St.
Portland, OR 97211
(503) 954-1702
Fogo de Chão Brazilian Steakhouse
930 SW 6th Ave.
Portland, OR 97204
(503) 241-0900
Gracie's at Hotel deLuxe
729 SW 15th Ave.
Portland, OR 97205
(503) 222-2171
Huber's Cafe
411 SW 3rd Ave.
Portland, OR 97204
(503) 228-5686
Jake's Grill
614 SW 11th Ave.
Portland OR 97205
(503) 241-2125
LeChon
113 SW Naito Pkwy.
Portland, OR 97204
(503) 219-9000
McCormick & Schmick's Harborside at the Marina
309 S Montgomery
Portland, OR 97201
(503) 220-1865
McMenamins Cornelius Pass Roadhouse & Imbrie Hall
4045 NE Cornelius Pass Rd.
Hillsboro, OR 97124
(503) 640-6174
McMenamins Crystal Hotel & Ballroom
303 SW 12th Ave.
Portland, OR 97205
(503) 972-2670
McMenamins Grand Lodge
3505 Pacific Ave.
Forest Grove, OR 97116
(503) 992-9533
McMenamins Hotel Oregon
310 NE Evans St.
McMinnville, OR 97128
(503) 472-8427
McMenamins Kennedy School
5736 NE 33rd Ave.
Portland, OR 97211
(503) 249-3983
McMenamins Wilsonville Old Church & Pub
30340 SW Boones Ferry Rd.
Wilsonville, OR 97070
(503) 427-2500
Nostrana
1401 SE Morrison St., Suite 101
Portland, OR 97214
(503) 234-2427
Picnic House
723 SW Salmon St.
Portland, OR 97205
(503) 227-0705
Portland City Grill
111 SW 5th Ave., 30th Floor
Portland, OR 97204
(503) 450-0030
Portland Spirit River Cruises and Events
110 SE Caruthers St.
Portland, OR 97214
(503) 224-3900
Quaintrelle
2032 SE Clinton St.
Portland, OR 97202
(503) 200-5787
Relish
6637 SE Milwaukie Ave.
Portland, OR 97202
(503) 208-3442
RingSide Steakhouse
2165 W Burnside St.
Portland, OR 97210
(503) 223-1513
Ruth's Chris Steak House
850 SW Broadway
Portland, OR 97205
(503) 221-4518
Saffron Fields Vineyard
18748 NE Laughlin Rd.
Yamhill, OR 97148
(503) 662-5323
Serratto Restaurant and Bar
2112 NW Kearney St.
Portland, OR 97210
(503) 221-1195
St. Jack
1610 NW 23rd Ave.
Portland, OR 97210
(503) 360-1281
Swine Restaurant
808 SW Taylor St.
Portland, OR 97205
(503) 943-5844
Urban Farmer
 525 SW Morrison St.
Portland, OR 97204
(503) 222-5700
Vaux
425 NW 9th Ave.
Portland, OR 97209
(971) 351-0258
Wilfs Restaurant & Jazz Bar
At Union Station
800 NW 6th Ave.
Portland, OR 97209
(503) 223-0070
Xico
3715 SE Division St.
Portland, OR 97202
(503) 548-6343