Portland Oregon Wedding Makeup Artists
It's your wedding day, and you want everything to be perfect. All eyes will be on you; everyone will be snapping photos and taking videos of you and your spouse. Of course, you want to look your absolute best. Even if you normally do your own makeup, chances are you'll want to go the extra mile for your wedding and hire a professional. Well, Portland's professional makeup artists have got you covered!
Read More
Portland bridal makeup consultants are the best around. From the boudoir photography session to the last touch-up before you walk down the aisle, your makeup will be flawless with our expert makeup artists are on the job. Concerned about squeezing in a hair stylist and makeup artist on the same day? Don't worry! Many of our skilled artists offer bridal hair styling services as well. And if you don't want to have to rush across town and deal with traffic before your ceremony, our makeup artists will travel to you. So hire an on-site MUA, and spend more time getting ready in the comfort of your venue space, and less time worried about how you'll get it all done in time.
We know how much thought you put into your dress and hair, and you certainly don't want to skimp on your makeup. Hiring a licensed makeup artist, beautician, or esthetician ensures you're stunning from head to toe. Whatever look you have in mind, Portland's makeup artists can accommodate any style. From organic skin-friendly products that showcase your natural beauty, to dramatic and glamorous fashion makeup, you'll find the perfect makeup artist in Portland.
Whether you want to keep your look simple or make it extravagant, we'll connect you with professional makeup artists in the Portland area. Take a look around, and meet our makeup experts today.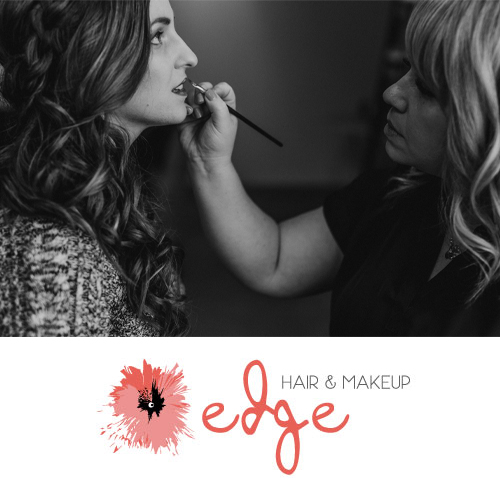 Edge Hair & Makeup
All of Oregon
(541) 410-4384
Winner of Oregon Bride's Best of 2017/2019 and finalist for the past 5 years running, Edge is a believer in the idea that all women deserve to feel breathtakingly beautiful on their wedding day. Edge has quickly become one of Central Oregon's most trusted names in wedding hair and makeup.
Esthetician: FT-1003416
Hair Design: HA-1003416
Freelance License: CI-10188479
www.edgehairmakeup.com
Goddess Glamour
Portland, OR
(360) 203-0808
Goddess Glamour delivers top-rated hair and makeup professionals right to your door. Perfect for brides & bridal parties, our mobile salon will come to you on your special day. From rehearsal dinners and engagement photos to the big day, Goddess Glamours wedding hair and makeup artists are the best in the business. Offering bridal makeup, airbrush makeup, and hair design, Goddess Glamour will create the perfect package for your wedding day.
www.goddess-glamour.com
About Face by Tana Day
Portland, OR
(503) 891-8530
Anny Chow Makeup & Hair
113 W 7th St., Suite 207
Vancouver, WA 98660
(917) 365-4617
Austie Eckley Makeup Artistry & Design
Portland, OR
(503) 481-4443
Beauty Adorned, LLC
Portland, OR
beautyadorned.pdx@gmail.com
Beauty And The Brush
3472 NW Blackcomb Dr.
Portland, OR 97229
(971) 226-6896
Beauty by Shawna
7000 SW Hampton St., Suite 205
Tigard, OR 97223
shawnakim.mua@gmail.com
Bella by Jolena Spa & Lash Boutique
5404 NE 65th St.
Vancouver, WA 98661
(503) 780-7802
Blossom & Beauty
8191 N Lombard St., Suite 115
Portland, OR 97203
(971) 338-0051
Blue Lotus Henna
1218 SE Ash St.
Portland, OR 97214
(503) 758-8195
Blush Beauty Bar
513 NW 23rd Ave.
Portland, OR 97210
(503) 227-3390
Blush N' Bride
Portland, OR
(360) 975-8078
Blushing Bride
Portland, OR
(971) 999-1447
Coreene Collins - Hair & Makeup Artist
4335 SE Division St.
Portland, OR 97206
(503) 929-3462
CRUBEAUTY
1650 SE 3rd Ave.
Portland, OR 97214
(503) 732-6110
Danielle MUA
103 NE 25th Ave., Suite 322
Hillsboro, OR 97124
(503) 490-4944
Destiny Taylor
Portland, OR
(503) 891-4001
Event Cosmetics
1008 SW Taylor St.
Portland, OR 97205
(503) 233-9076
GLAMbeauty bar
202 E Evergreen Blvd., Suite 200
Vancouver, WA 98660
(360) 718-2930
Goddess Glamour
Portland, OR
(360) 203-0808
Jess Soul Beauty
4923 NE MLK Jr. Blvd., Suite 101
Portland, OR 97211
(503) 935-9216
Jessica Belknap - Makeup Artist
411 5th St.
Oregon City, OR 97045
(503) 803-5207
Kelli Thomsen Beauty
917 NW Overton St.
Portland OR 97209
(503) 890-5355
Kerrin B Bridal Hair and Makeup
Portland, OR
(978) 257-3533
Kirstie Wight - Makeup Artist
431 NW Flanders, Suite 105
Portland, OR 97209
(503) 804-5081
Kiss & Makeup Artistry
1722 NW Raleigh St., Suite 115
Portland, OR 97209
(503) 505-0235
Legendary Makeup & Hair
3439 SE Hawthorne Blvd., Suite 975
Portland, OR 97214
 (458) 219-2002
Magix In The Makeup
1107 NE 9th Ave., Suite 105
Portland, OR 97232
(808) 213-0727
Makeup + Hair Artistry by Katya LaPierre
Portland, OR
(541) 806-2188
Marina Haynes Artistry
10490 SW Eastridge St., Suite110-G
Portland, OR 97225
(971) 770-1213
Marissa Freeman Beauty
1221 SW Alder St.
Portland, OR 97205
(971) 770-1917
Mobile Glam NW
4 Touchstone, Suite 76
Lake Oswego, OR 97035
(971) 832-3822
Olivia Hawthorne Beauty
Portland, OR
(503) 916-9104
Portland Makeup & Hair
Portland, OR
(503) 453-7143
Powder Inc.
Portland, OR
(503) 847-5572
Style Me PDX
941 NE Hogan Dr.
Gresham, OR 97030
(971) 506-3082
Tabitha Colie Artistry
Hood River, OR
(541) 321-8054
The Beauty Briar
504 Washington St., Suite 2
Vancouver, WA 98660
 (360) 836-1804
The Prettiest You - Janelle Hayden Hair and Makeup
Vancouver, WA
(360) 399-6588
VAMP Beauty
1914 Willamette Dr., Suite 150
West Linn, OR 97068
(503) 990-1038
Vivid Chromatics
959 SE Division St., Suite 125
Portland, OR 97214
(503) 970-8739
Whitney Stassi Artistry
4900 SW Griffith Dr., Suite 156
Beaverton, OR 97005
(503) 702-3075