Portland Wedding Rentals, Lighting, Décor & Restrooms
Have you reserved a wedding venue, only to find that it doesn't have the facilities you need? Before you buy it, consider rentals! Outdoor venues such as parks may only have the bare minimum. Indoor spaces such as event centers often have drab decor and poor lighting. If your venue isn't equipped with lighting, decor, or restrooms, then we can help! Portland, Oregon rental companies have what you need for your wedding ceremony and reception.
Read More
Transform Your Dream Wedding: Rentals, Decor & Lighting in Portland, Oregon
Planning a wedding in Portland, Oregon? Congratulations! The City of Roses offers a stunning backdrop for your special day. While there are countless details to consider, one essential aspect is wedding rentals. From tables and chairs to linens, dance floors, and lighting, the right rentals can transform your venue into a dream wedding setting.
Tables, Chairs & Centerpieces
Renting tables and chairs allows you to select styles that complement your wedding theme, whether it's rustic, vintage, or modern. These essentials provide seating for your guests and set the stage for the reception. Consider renting Chiavari chairs for an elegant touch or farm tables for a rustic, Pacific Northwest vibe.
Linens & Decor
Tablecloths, napkins, and chair covers can add a pop of color and elegance to your decor. Linen rentals are a cost-effective way to achieve a cohesive look that matches your color scheme. Choose from a wide range of fabrics and colors to suit your style.
Dance Floors & Reception 
A dance floor is a must if you plan to dance the night away with your loved ones. Whether you prefer a traditional wood floor or a stylish LED dance floor, rentals can turn any space into a dance party central.
Professional Lighting & Custom Projections
Good lighting sets the mood for your wedding. Uplighting, chandeliers, and string lights can transform an ordinary venue into a romantic and enchanting space. Consider lighting rentals to create the perfect ambiance for your celebration, whether it's in a Portland ballroom or one of the many picturesque outdoor venues around the city.
When it comes to wedding rentals, hiring a professional event rental company is crucial. They have the experience and expertise to guide you through the process, ensuring you have everything you need for your big day. They can help you choose the right items, plan the layout, and handle delivery and setup, so you can focus on enjoying your wedding.
Some picturesque areas around Portland that make for stunning wedding venues include the Columbia River Gorge, with its lush landscapes and stunning waterfalls, and the wine country in the Willamette Valley, offering scenic vineyards and rustic barns. The Oregon Coast also provides a breathtaking backdrop with its rugged cliffs and sandy beaches.
In conclusion, renting wedding essentials like tables, chairs, linens, dance floors, and lighting can help you create the wedding of your dreams in Portland, Oregon. By working with a professional event rental company, you can ensure that every detail is taken care of, allowing you to savor the joy of your special day while surrounded by the natural beauty and charm of the Pacific Northwest.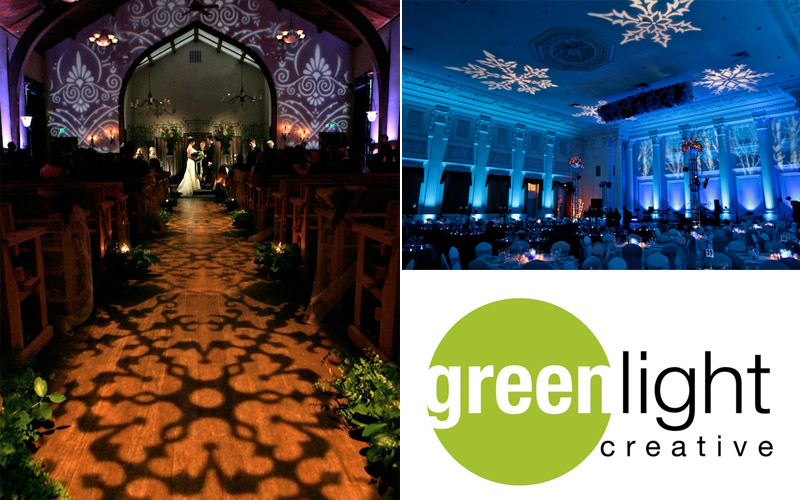 Greenlight Creative
6036 North Cutter Circle, Suite 370
Portland, OR 97217
(503) 970-0246
Providing full service, award-winning lighting production for special events of all kinds. We approach every wedding as a custom, original design….even if it's just a few uplights, we want to make it as unique to YOU as we can. We take great pride in tying in your colors and other themes to our approach, and in making good venues look fantastic and great venues look even greater! And, we do it without making your life difficult: You can just enjoy your day, knowing that the lighting will be stunning!
www.greenlight-creative.com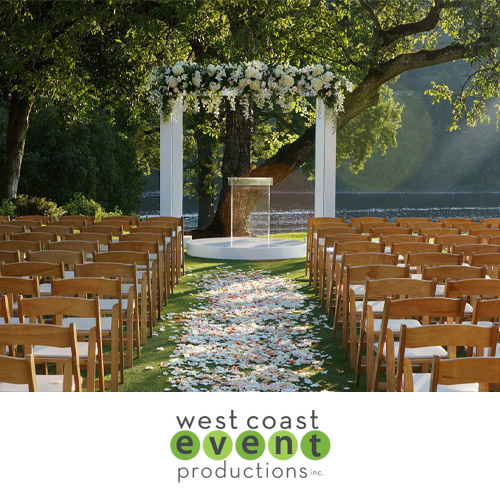 West Coast Event Productions
1466 NW Naito Pkwy.
Portland, OR 97209
(503) 294–0412
It starts with a promise… A promise to make your wedding unforgettable. West Coast Event Productions is Portland's premier event planning, design and rental company. We are an inspired team of event planners, designers and technicians committed to developing innovative solutions for weddings and special events.
www.wcep.com
Danner & Soli Event Rental and Design
2315 Pringle Road SE, Suite G
Salem, OR 97302
(503) 584-1322
Danner & Soli specializes in vintage and unique wedding and event rentals. Serving the Oregon Willamette Valley, from Portland to Salem.
www.dannerandsoli.com
Red Leaf LLC
5526 Waconda Rd. NE
Salem, OR 97305
(503) 931-3802
Renting live plants for your wedding. We are able to create a variety of themes from an English Garden to an Enchanted Forest. Our event horticulturist can help make your dream a reality.
www.redleafgarden.com
Bowerbird Events
3823 NE 113th Pl.
Portland, OR 97220
(503) 505-2712
CharmPop Balloon Designs
Home Office
Oregon City, OR 97045
(503) 515-6921
Event Co. Wedding and Party Rentals
Portland, OR
(971) 282-5080
Events Etc NW
11778 SE Jennifer St.
Clackamas, OR 97015
(503) 722-3884
Great Jones NW
2058 E St.
Washougal, WA 98671
(503) 481-4449
Greenlight Creative
6036 North Cutter Circle, Suite 370
Portland, OR 97217
(503) 970-0246
Hayward's Decorations, LLC
121 NE 117th Ave.
Vancouver, WA 98684
(360) 910-0844
Hollywood Lights
5251 SE McLoughlin Blvd.
Portland, OR 97202
(503) 232-9001
Honeybucket
9609 N Rivergate Blvd.
Portland, OR 97203
(800) 444-2371
Interstate Special Events
1518 NE Lombard Place
Portland, OR 97211
(503) 285-6685
LGS Events and Party Rental
901 N Garrison Rd.
Vancouver, WA 98664
(360) 907-7670
Lily & Cane Event Rentals
4020 SE International Way, Suite C104
Milwaukie, OR 97222
(503) 432-3993
Luxury Restroom Trailers
3701 SE Naef Rd.
Portland, OR 97267
(503) 939-5872
NW Event Rentals
2900 NE Century Blvd., Suite 100
Hillsboro, OR 97124
(503) 336-5759
Oregon Event & Tent Co.
8205 SW Barbur Blvd.
Portland, OR 97219
(503) 246-4268
Paradym Events
2110 NW Aloclek Dr., Suite 801
Portland, OR 97214
(503) 309-8563
Peter Corvallis Productions
2204 North Clark Ave.
Portland, OR 97227
(503) 222-1664
Portland PartyWorks
15521 SE For Mor Ct.
Clackamas, OR 97015
(503) 723-8300
Portland Wedding Lights
Portland, OR
(805) 405-3619
Power of Love Rentals
Portland, OR
(971) 266-3119
Quest Events
12911 NE David Cir.
Portland, OR 97230
(503) 719-6731
Reliant Porta Potty Rentals
1425 SW 20th Ave.
Portland, OR 97201
(503) 974-3620
Royal Restrooms of Oregon
19000 NE 42nd Ct.
Ridgefield, WA 98642
(503) 277-0074
Royce's Prop Shop Event Production & Decor
5406 N Albina Ave.
Portland, OR 97217
(971) 563-6843
Schulz-Clearwater Sanitation
11655 SW Herman Rd., Suite 8175
Tualatin, OR 97062
(800) 864-5387
Setting the Table
2340 SE Gladstone St.
Portland, OR 97202
(503) 850-7770
The Loo Luxury Restroom Trailers
Sherwood, OR
(503) 680-5774
The Party Place Event Rentals Bridgewood
3721 NW Front Ave.
Milwaukie, OR 97210
(503) 656-9587
The Party Pros
23798 NW Clara Ln.
Hillsboro, OR 97124
(503) 844-9798
Venue in a Box
17855 S Canter Ln.
Oregon City, OR 97045
(503) 816-7213
Willy Make It? Portable Toilets
5731 NE 109th Ave.
Portland, OR 97220
(503) 261-1234
Your Party Center
3006 NE 112th Ave., Suite E
Vancouver, WA 98682
(360) 844-6673