Portland Wedding Cocktail Catering & Beverage Services
You've booked the food and the cake, but what about the drinks? From pre-ceremony drinks, the cocktail hour between the ceremony and reception, to champagne toasts later that night, drinks are a must! Portland cocktail caterers have a wide selection of beverage services and can put together a cocktail menu specifically designed for your wedding. Most offer traditional bar tending services and some even have portable bars and can travel to provide on-site bar service at your venue. They deal with liquor licensing and bring the drinks, service, and barware to you, so all you have to do is relax and have fun. With nearly 70 microbreweries in the Portland metro area, our surprisingly unique beer choices are sure to impress your guests. Portland is also home to nearly 20 distilleries, and is surrounded by vineyards and wineries so we're sure you'll have plenty of options to choose from!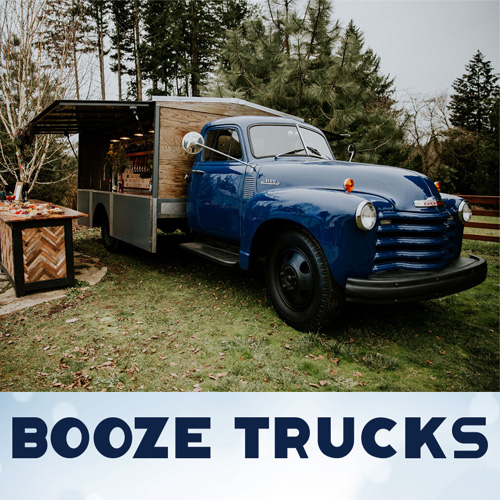 Booze Trucks
11 NE MLK Jr Blvd
Portland, OR 97232
(971) 235-2146
Full event beverage services from our two vintage trucks, a 1953 Chevy booze truck named Betsy and our 1947 International milk truck named Rosie. Each complete with onboard refrigeration, keg taps, wet bar, CO2, and reclaimed wood tables – all delivered wtih our professional OLCC certified staff.
www.boozetrucks.com
Amaro
Portland, OR
Amaropdx@gmail.com
Blue Stag Mobile Bar
Canby, OR
(503) 367-8196
Botanist
910 NW 14th Ave.
Portland, OR 97209
(971) 533-8064
MexirRican PDX
Portland, OR
(503) 975-4742
My Vice Food & Spirits
2035 SE Cesar Estrada Chavez Blvd.
Portland, OR 97214
(503) 477-4252
Oregon Mobile Bar Company
Portland, OR
503-732-9077
Portland Bartender Express
8419 NE Pierce Dr.
Vancouver, WA 98662
(971) 222-4370
Portland Catering Company
7800 SW Durham Rd., Suite 400
Portland, OR 97224
(503) 620-8855
Sloshy Pops, Boozy Popsicles
845 NE Rosa Parks Way
Portland, OR 97211
(503) 841-2554
Stirred Bartending
Portland, OR
(503) 810-2114
The Swig Rig
Lake Oswego, OR
(415) 518-6183
The WaitStaff Team
Portland, OR
(503) 460-7755
With A Twist Bartending Service
Portland, OR
(503) 438-3131
Yancy Violi - Premier Cocktail Bartending
Portland, OR
(561) 317-1454