Portland Oregon Wedding Invitations & Calligraphy
It's time to invite your guests to the wedding! Choosing and sending the perfect wedding invitations can be stressful, especially if you're planning to have a large wedding. For this reason, you'll surely want a little help with all the details. You'll find the very best wedding invitations, letterpress operators and calligraphers in Portland, Oregon.
Read More
The Rose City is full of talented artists that truly do it all. Need some classy engagement announcements? How about save-the-date cards or RSVPs? No problem! From placards to thank you notes, we've got it!
Whether your wedding theme is traditional, vintage, modern, or unique, our experts fit your style. We offer cards, invitations, signage, and decor, too. Skilled calligraphers will apply hand-drawn arts and letters to just about everything, even hand-drawn chalkboards. We even have artists who laser cut glass, wood, and metal. If you want unique cake toppers or favors, it's no problem! Looking for a custom guest book? Our Portland printing and letterpress companies can create the perfect one just for you.
Folks in Oregon are earth-friendly, so we have eco-friendly options, too. Our providers work hard to make the lowest impact on our planet. Green printing companies often use recycled and up-cycled materials. They also use plant-based inks and dyes that are safe and non-toxic. They specialize in beautiful invitations that leave an imprint on your heart, not on the earth.
Portland offers fine paper and printing services for every taste. From quality digital prints to handmade letterpress designs, we print in a range of styles. We have signs, place cards, address service, programs, table markers and much more . Portland is full of skilled artists waiting to create your dream invitations. So take some stress out of planning your wedding and hire an expert. With our site, the very best Portland artists are only a click away.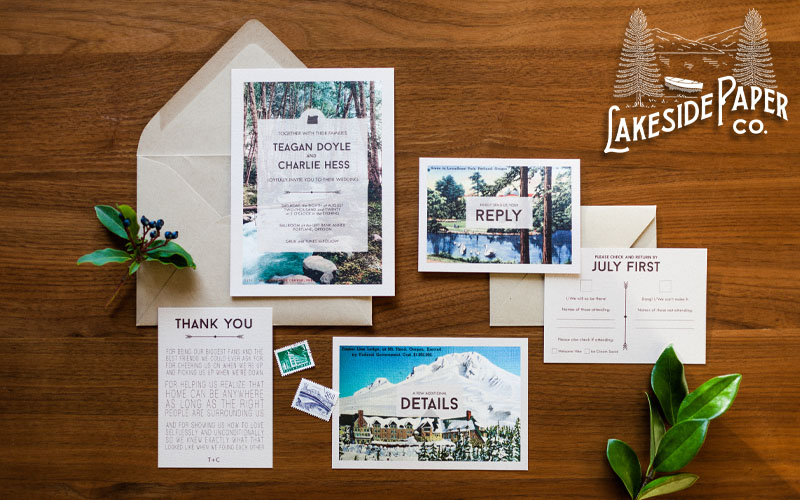 Lakeside Paper Co.
Portland, OR
Email: lakesidepaperco@gmail.com
Paper Obsessed. Lakeside Paper Co. is a paper and design shop based out of Portland, Oregon that focuses on creating wedding suites to celebrate nature and the places we call home. Working closely with clients to understand what makes them tick, owner Emily Murphy places special importance on delivering invitations that set the exact tone that someone's big day deserves. From existing designs to fully custom invitations, there are a range of unique options for every couple!
www.lakesidepaperco.com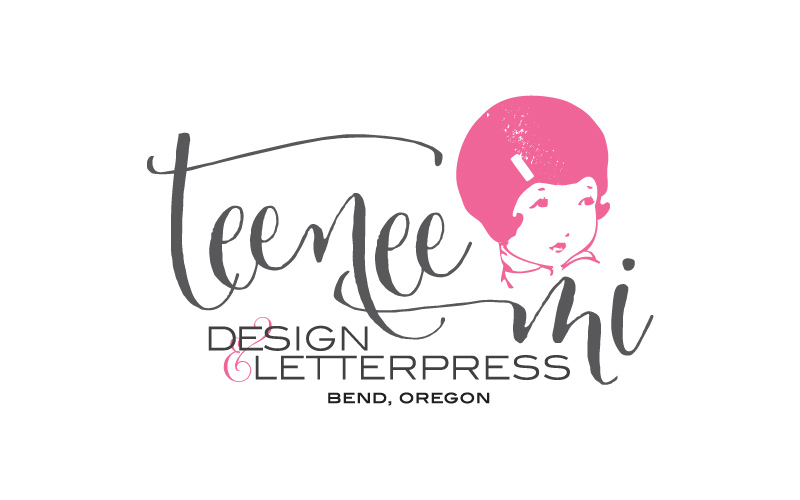 Teenee Mi Design & Letterpress
Portland, OR
(541) 204-0388
Teenee Mi Design & Letterpress is a boutique letterpress printing and graphic design studio based in Bend, Oregon. We specialize in custom wedding invitations, announcements, thank you cards, personal stationery, save-the-date cards, business cards and other custom printed goods.
www.teeneemi.com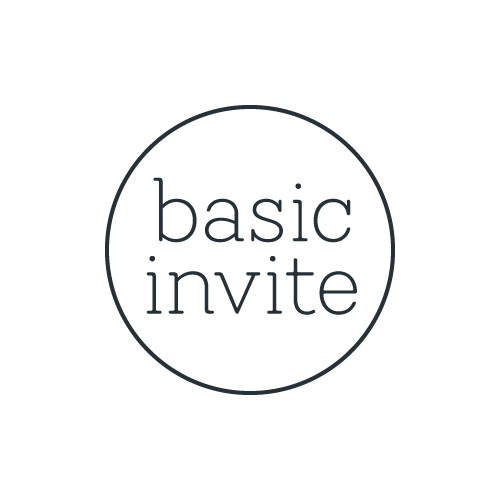 Basic Invite
1224 S. River Rd., Suite B208
St. George, UT 84790
(800) 705-1243
Located in Saint George, Utah, our small and passionate team has been creating the perfect card for every event since 2006. Through the development of unique technology, we're able to provide you with limitless options that allow you to instantly create a card that is truly unique.
www.basicinvite.com
Anders Printing Co.
3402 SE Division St.
Portland, OR 97202
(503) 232-5842
Blue Bonsai Printing
Woodburn, OR
(503) 952-6039
Briar and Brambles Paper Co.
Portland, OR
(503) 395-8743
Crave Design
Portland, OR
(503) 789-8531
Egg Press
2181 NW Nicolai St.
Portland, OR 97210
(503) 234-4233
everglow handmade
Portland, OR
(503) 314-2075
Evermine
45 NE Hancock St.
Portland, OR 97212
(855) 383-7646
Katie Michelle Designs
Madras, OR
(541) 602-0286
Lakeside Paper Co.
Portland, OR
Letterpress PDX
1831 N Killingsworth St., Suite C
Portland, OR 97217
(971) 200-1965
Lettuce Press
Vancouver, WA
lettucepress@gmail.com
Meyer and Market
Lake Oswego, OR
509-713-3915
MKR Design Studios
Portland, OR
michelle@mkrdesignstudios.com
Moments byNorri
728 NW 23rd Ave.
Portland, OR 97210
(971) 319-0136
Oblation Papers & Press
516 NW 12th Ave.
Portland, OR 97209
(503) 223-1093
Paper Bloom Custom Invitations & Designs
Portland, OR
(971) 645-9155
Paper Source
638 NW 23rd Ave.
Portland, OR 97210
(503) 226-8000
Paperjam Press
4730 NE Fremont
Portland, OR 97213
(503) 238-5777
Park Place Papers
2678 SW Talbot Rd.
Portland, OR 97201
(503) 292-3533
Parklife Press
6039 NE 32nd Ave.
Portland, OR 97211
(503) 395-8715
Reb Peters Press
5206 NE Prescott St.
Portland, OR 97218
(503) 756-7904
Studio Olivine
5515 N Albina Ave., Suite A
Portland, OR 97217
(503) 563-8777
The Lettering Bee Co.
Portland, OR
theletteringbeeco@gmail.com
Tie That Binds
420 SW Washington St., Suite 303
Portland, OR
(845) 596-8825
Wide Eyes Paper Co.
107 SE Washington St., Suite 440
Portland, OR 97214
Wonderment Paper Co.
Portland, OR