Portland Oregon Wedding Tuxedos, Suits & Formal Wear
Without a doubt, you want to look your best on your wedding day. Your bride has her perfect dress, and you need to the tux to match! Portland, Oregon is a great place to find tuxedos and formal wear for you and your groomsmen. We've got tuxes and suits for the groom, father of the groom, best man and more.
Read More
Portland, Oregon formal wear stores offer a wide range of options for all ages and sizes. From children's attire for the ring bearer, to big and tall options, you'll find it here. From casual men's wear to designer formal wear, there's something for every taste. On a budget? No problem! Our outlet stores have brand name suits and tuxes in every price range. If you're looking for an original or custom piece, our high-end men's boutiques and designer stores carry the latest trends and fashions.
If you're interested in wearing your tux just once, Portland tuxedo and suit rentals are a great option! Just pick up your wedding attire before your big day and drop it off afterward. Our tailors and clothiers will fit, alter, and clean your tuxedos and suits, so you can look great without any hassle.
If you have a unique style, then we have just what you're looking for in a tux. From custom designer suits to vintage tuxedos, Portland's tuxedos and formal wear companies offer modern and classic styles that are sure to impress. They've got all the accessories covered – from ties, vests, and jackets, to slacks, socks, shirts, and hats. Don't forget your dress shoes, pocket square, and cufflinks! Our formal wear shops have the perfect accents for your tux or suit.
No matter what the theme or color scheme of your wedding, you're sure to find just the right attire for your wedding . Portland tuxedo and formal wear shops truly have it all!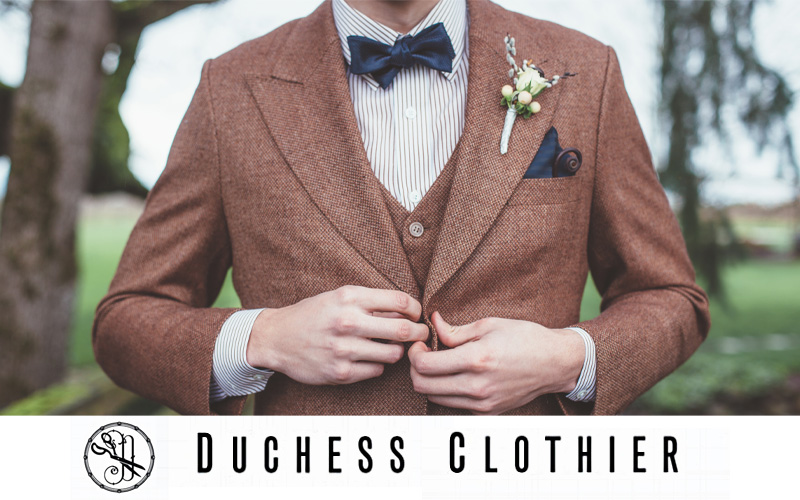 Duchess Clothier
2505 SE 11th Ave., #102
Portland, OR 97202
(503) 281-6648
Duchess Clothier provides its customers the thrill of high quality suits and other garments, both custom and off-the-rack, as well as excellent, impassioned, and insightful service. We guarantee our signature perfect fit for women, men, and everybody in between regardless of body shape or size.
www.duchessclothier.com
Banana Republic
7345 SW Bridgeport Rd.
Tigard, OR 97224
(503) 968-6308
Bonobos
415 SW 13th Ave.
Portland, OR 97205
(503) 577-9305
David's Bridal - Beaverton
9125 SW Cascade Ave., Suite 100
Beaverton, OR 97008
(503) 646-3751
David's Bridal - Happy Valley
12225 SE 82nd Ave.
Happy Valley, OR 97086
(503) 653-9800
DXL Big + Tall
12125 N Parker Ave.
Portland, OR 97217
(503) 978-1728
Express
12000 SE 82nd Ave.
Portland, OR 97086
(503) 659-3558
H&M
9524 SW Washington Square Rd.
Portland, OR 97223
(855) 466-7467
Hall Madden Custom Suits
917 SW Oak St., Suite 400
Portland, OR 97205
(503) 389-8995
Harris and Tailor
607 SW Washington St.
Portland, OR 97205
(971) 254-9142
Indochino
902 SW Yamhill St.
Portland, OR 97205
(971) 339-7379
JC Penney
9500 SW Washington Square Rd.
Portland, OR 97223
(503) 620-0750
John Helmer Haberdasher
969 SW Broadway
Portland, OR 97205
(503) 223-4976
Kash Ross Creations
740 SW Washington St.
Portland, OR 97205
(503) 222-5552
Macy's - Clackamas
12100 SE 82nd Ave.
Clackamas, OR 97086
(503) 653-8811
Macys - Tigard
9300 SW Washington Square Rd.
Tigard, OR 97223
(503) 620-3311
Marios
833 SW Broadway
Portland, OR 97205
(503) 227-3477
Marios 3.10
17031 SW 72nd Ave.
Tigard, OR 97224
(503) 601-7310
Men's Wearhouse - Clackamas
8876 SE Sunnyside Rd.
Clackamas, OR 97015
(503) 653-7811
Men's Wearhouse - Hillsboro
18565 NW Tanasbourne Dr.
Hillsboro, OR 97124
(503) 614-8486
Men's Wearhouse - Tigard
16940 SW 72nd Ave.
Tigard, OR 97224
(503) 670-1653
Michael Allen's Clothier
811 SW Morrison
Portland, OR 97205
(503) 221-9963
N'Kossi Boutique
700 SW 5th Ave.
Portland, OR 97204
(971) 361-6567
Nordstrom
701 SW Broadway
Portland, OR 97205
(503) 224-6666
Royal Tuxedo
3000 SE 164th Ave.
Vancouver, WA 98683
(360) 896-1900
Saint Laurent
700 SW 5th Ave.
Portland, OR 97204
(503) 205-6230
Saks OFF 5TH
7489 SW Bridgeport Rd.
Tigard, OR 97224
(503) 620-6536
StumpTown Kilts
2303 NE Alberta St.
Portland, OR 97211
(503) 839-7604
Tom James Company
111 SW Columbia St., Suite 106
Portland, OR 97201
(503) 241-6182
Wildwood & Company
529 SW 3rd Ave.
Portland, OR 97204
(971) 238-2548
ZARA
SW 5th Ave., Suite 700
Portland, OR 97204
(646) 923-9638