Portland Oregon Wedding Florists & Wedding Flowers
If you're looking for wedding flowers in Portland, Oregon, then prepare to be amazed! We call it "The City of Roses" for a reason. Our climate is ideal for raising the most beautiful flowers in the country. From the International Rose Test Garden to the Rose Festival, we celebrate roses year-round, but roses are only the beginning. Portland is home to thousands of varieties of flowers, trees, grasses, shrubs, and mosses. For uniquely designed wedding flower arrangements found nowhere else, you're in the right place!
Read More
The Pacific Northwest boasts thousands of botanical varieties. Wedding flowers in Portland are especially unique because everything grows here! Even if you want non-native plants for your wedding, we grow species from all over the world! Want a classic bouquet of roses, peonies, or lilies? How about a rustic arrangement with sage, sunflowers, pinecones, or even succulents? Thinking of herbs, berries, wheat, or twigs in your sprays? No problem! Our flower options are truly endless.
Portland florists customize every detail, regardless of your budget. From small, intimate arrangements to modern, elegant sprays, our florists will work with you to make your vision come to life. Whether you want large, flowing centerpieces or vintage bouquets, our florists will create exactly what you envision. In addition to bridal bouquets, you'll find the perfect flowers for the mother of the bride, bridesmaids, groomsmen, flower girl, and ring bearer too.
So take time to smell Portland's flowers. Our wedding florists will create the perfect package for your big day. From the boutonnieres to the floral decorations of your dreams, all of your flowers are sure to be perfect. Whether your big day is in the winter, spring, summer or fall, you'll always find the perfect wedding flowers in Portland.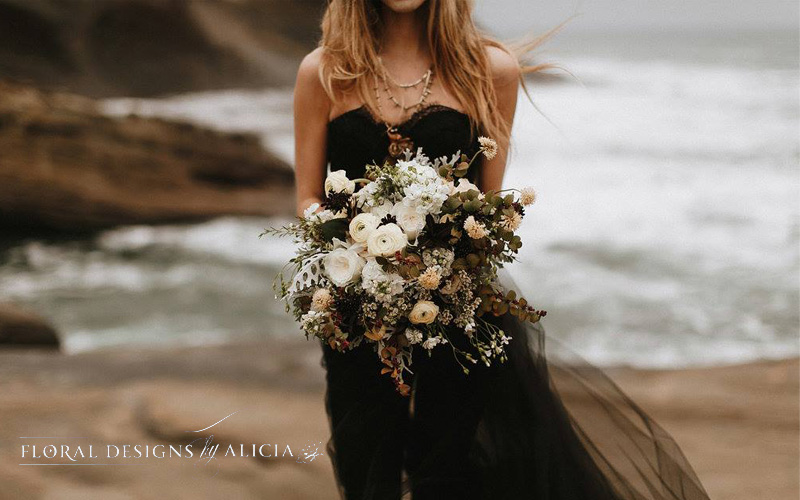 Floral Designs by Alicia
20093 White Cloud Cir.
West Linn, OR 97068
(503) 754-7484
Specializing in beautiful botanical designs to complete your wedding or event. We mold to your vision and meet your floral desire. We love to travel and accommodate every budget.
www.floraldesignsbyalicia.org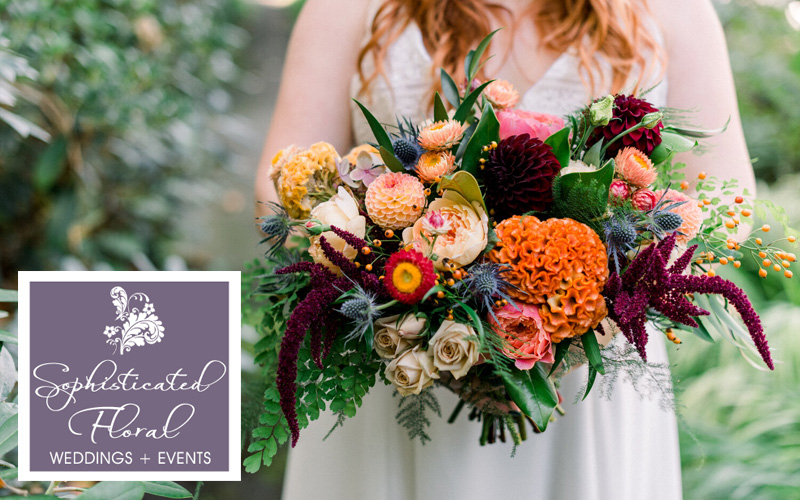 Sophisticated Floral
Portland, OR
(503) 484-4616
Sophisticated Floral Designs is a couture style florist specializing in floral design exclusively for Weddings, Events and Corporate Functions. Visit our website for additional information and to set up your complimentary consultation.
www.sophisticatedfloral.com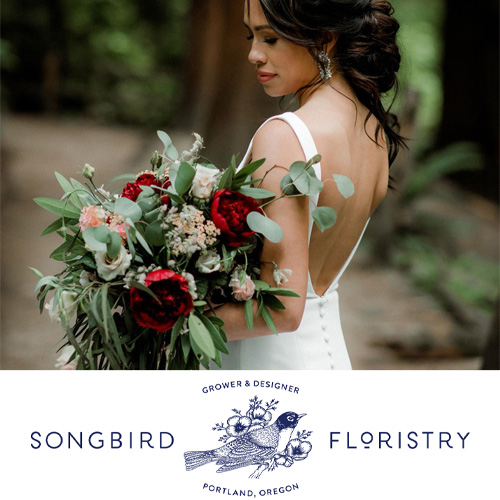 Songbird Floristry
Portland, OR
(503) 924-7766
Whether you know exactly what you want or aren't sure where to begin, Songbird Floristry will work with you to create a floral plan that is stunning, stress-free, and matches your vision.
www.songbirdfloristry.com
A Floral Affair
149 Ogden Dr.
Oregon City, OR 97045
(503) 794-9370
Amanda Karam Floral
515 SW Broadway
Portland, OR 97205
(503) 810-0982
Artistic Flowers & Home Decor
17100 SW Pilkington Rd.
Lake Oswego, OR 97035
(503) 635-6661
Beaumont Florist
4201 NE Fremont St.
Portland, OR 97213
(503) 281-5501
Bella Bloom Florals
4991 SW Tualatin-Sherwood Rd., Suite 205
Sherwood, OR 97140
(503) 880-1085
Belle Fleur Floral Design
546 Welcome Way SE
Salem, OR 97302
(503) 559-1747
Blooming Bouquets
Beaverton, OR
(971) 285-5628
Bloomsberry Floral
Portland, OR
(971) 206-4677
Blüm Floral Design
3508 SW Corbett Ave.
Portland, OR 97239
(503) 851-1672
Botanica Floral Design
1124 NW Lovejoy St.
Portland, OR 97209
(503) 477-9368
Bramble Floral Design
Portland, OR
Britlyn Simone Floral
Portland, OR
(603) 205-5012
Color Theory Design Co
2642 NE Sandy Blvd.
Portland, OR 97232
(971) 270-0199
Crystal Lilies
6371 SE Cavalier Way
Portland, OR 97267
(503) 221-7701
Emerald Petals
Portland, OR
(503) 719-4503
Fieldwork Flowers
800 SE 10th Ave.
Portland, OR 97214
(503) 388-1064
Flower Bomb Floral Design
2857 SE Stark St.
Portland, OR 97214
(503) 702-1894
Flowers For You
Oregon City, OR 97045
(503) 318-6677
Form & Flora
Portland, OR
(503) 803-6052
Geranium Lake Flowers
US Bank Tower, First Floor
555 SW Oak St.
Portland, OR 97204
(503) 228-1920
Gifford's Flowers
704 SW Jefferson St.
Portland, OR 97201
(503) 222-9193
Good Seed Floral
Portland, OR
(503) 974-6076
Goose Hollow Flowers
1219 SW 19th Ave.
Portland, OR 97205
(503) 228-8107
HART Floral
Portland, OR
(419) 602-3235
Here Comes the Bloom
Portland, OR
(503) 929-5875
Hilary Horvath Flowers
1624 NE 19th Ave.
Portland, OR 97232
(503) 850-8435
Lush Floral Design
25 NW 23rd Place, Suite 6
Portland, OR 97210
(971) 404-9933
Mary Jean's Flowers by Poppies and Paisley
7515 SE Roots Rd.
Milwaukie, OR 97267
(503) 653-8444
Old Town Florist
404 NW 10th Ave.
Portland, OR 97209
(503) 223-1646
Portland Florist Shop
11807 NE Glisan St.
Portland, OR 97220
(503) 257-9165
R Bloom's of Lake Oswego
267 A Ave.
Lake Oswego, OR 97034
(503) 636-5876
Ribbon and Twine Floral
804 SW Vista Ave.
Portland, OR 97205
 (720) 730-0569
Sammy's Flowers
1710 W Burnside St.
Portland, OR 97209
(503) 222-9759
SELVA Floral Design
2701 SE Clinton St., Suite 3
Portland, Oregon 97202
(503) 707-5226
Stacey's Flowers
Portland, OR
(360) 607-4307
Starflower
3564 SE Hawthorne Blvd.
Portland, OR 97214
(503) 225-9400
Summersweet Design
Portland, OR
(503) 946-8728
Swoon Floral Design
Portland, OR
(503) 544-2557
VIP Flowers
11050 SE Powell Blvd., Suite 377
Portland, OR 97266
(503) 760-1000