Portland Oregon Wedding Coordinators & Planners
Portland wedding coordinators and planners specialize in making your dream wedding a reality. Whether you know exactly what you want or don't know where to start, professional wedding coordinators can help. From simple "day-of" coordination to full event design and planning, you'll find it here, with one of our amazing Portland wedding coordinators! Let a professional event planner handle all the details so your big day can run seamlessly from start to finish. As the liaison between you and your wedding vendors, a Portland wedding coordinator becomes a partner that helps to guide you through the process. We'll connect you with your ideal wedding planner so you and your guests can enjoy a relaxing and stress-free day filled with laughter and love.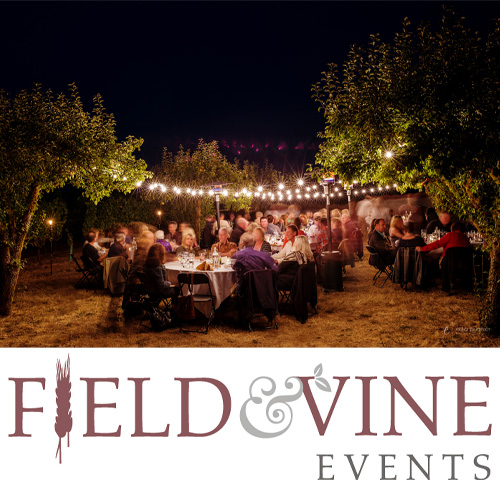 Field & Vine Events
1914 Willamette Falls Dr., Ste. 120
West Linn, OR 97068
(971) 258-8389
A full service catering and events company specializing in farm to table and outdoor catering. We're passionate about connecting greater Portland with Oregon's farm and wine country to create the most unique and memorable experiences. We plan and cater amazing weddings, private parties and corporate events.
www.fieldandvineevents.com
Bend Weddings & Events
Serving All of Oregon
(541) 241-2022
Are you looking to create a memorable wedding? Our goal is to assist you in creating the wedding you have always wanted. We take on the stress so you can have the fun! No matter the style or size we are here to help. With our custom check list, attention to details and over ten years in the industry Bend Weddings and Events will exceed your expectations.
www.bendweddingsandevents.com
Adornment Events
2574 NW Thurman St.
Portland, OR 97210
(971) 563-5555
Aisle Ready Events
0320 SW Montgomery St., Suite 220
Portland, OR 97201
(317) 749-1601
Black Swan Events
25200 NW St Helens Rd., Suite 56
Portland, OR 97231
(360) 567-5922
Bridal Bliss
402 N State St.
Lake Oswego, OR 97034
(503) 804-4901
Carpe Diem Weddings and Events
12665 NE Cedarbrook Rd.
Aurora, OR 97002
(503) 320-6925
Class Act Event Coordinators, Inc.
4744 Liberty Road S., Suite 240
Salem, OR 97302
(503) 371-8904
Creative Celebrations Wedding & Event Planning
2016 SW Dickinson Ln.
Portland, OR 97219
(503) 245-3132
Daisy May Events
Molalla, OR
(503) 313-9192
Danielle Nichole Events
Portland, OR
(503) 421-7349
Double A Weddings & Events
Portland Metro Area
(971) 266-1423
Dream Team Events
Canby, OR
(503) 522-7680
Elope In Portland
1991 NW Upshur St., Suite F
Portland, OR 97209
(503) 512-9893
EJP Events
1155 SW Morrison, 2nd Floor
Portland, OR 97232
(503) 284-6756
Elisabeth Kramer, Day-Of Wedding Coordinator
Portland, OR
elisabeth@elisabethkramer.com
Eventcracker
3800 SW 185th Ave., Suite 5014
Beaverton, OR 97078
(971) 295-3811
Events By Emily
3205 NE 54th Ave
Portland, OR 97213
(503) 893-8177
Events by Lisa Marie
3841 SW Hall Blvd.
Beaverton, OR 97005
(503) 830-7779
Fairytales Event Design
Portland, OR
(971) 319-1197
Flock Event Design
4414 SE 28th Pl.
Portland, OR 97202
(503) 714-5622
Gather Event Planning and Consultation
Portland, OR
(503) 504-7799
Green-Eyed Girl Productions
Stayton, OR
greeneyedgirlpc@gmail.com
Hosted By
Portland, OR
hostedby@kateandhanna.co
J29 Events
Portland, OR
(503) 349-6481
Jaime Ta Creative
8122 SE 74th Ave.
Portland, OR 97206
(858) 231-8357
Kamea Events
Portland, OR
(360) 852-0408
Karaway Co.
Portland, OR
(503) 773-4433
Keen Events
Portland, OR
(971) 270-0395
Kelsey Timberlake Events
1539 NW 19th Ave.
Portland, OR 97219
(503) 896-2022
Krystle Clear Events
Portland, OR
(541) 517-9331
Luxe Event Productions
2104 NE 45th Ave.
Portland, OR 97213
(503) 477-0599
Luxe Event Productions
Portland, OR
(503) 351-1822
Mae&Co Creative
2112 NW Quimby St.
Portland, OR 97206
(503) 481-2908
MH Events
Portland, OR
(505) 263-8211
Peachy Keen Coordination
11260 SW 79th Ave.
Tigard, OR 97223
(503) 422-3068
Periwinkle Events NW
12850 SE 257th Ave.
Damascus, OR 97089
(503) 481-3555
Pop, Fizz, Clink Events
Portland, OR
(402) 206-1657
Portland Event & Design
9332 SW Mandamus Ct.
Portland, OR 97223
(503) 507-0405
Purple Lilly Events
16194 NW Ramona Dr.
Beaverton, OR 97006
503-701-3052
Soleil Bliss Event Productions
4001 Main St.
Vancouver, WA 98663
(360) 567-5922
Soiree Special Event Planning
15630 Boones Ferry Rd., Suite 5a
Lake Oswego, OR 97035
(503) 230-9311
Totem Weddings and Events
Portland, OR
(971) 245-2303
Town and Country Weddings
Portland, OR
(425) 350-8221
Whitney Werts & Company
Portland, OR
(503) 974-6231