Portland Wedding Gifts & Party Favors
Your wedding will be spectacular and one-of-a-kind, and you'll find the perfect party favors, supplies and wedding gifts in Portland to impress your guests. From the bridal shower and engagement party, to the bachelor and bachelorette parties, the rehearsal dinner, and the perfect Portland wedding reception, we've got it all! Unique party favors and party supply stores in Portland will compliment your day from start to finish.
We've got the party people to make your celebrations fun and perfectly you, from the engagement party to the bachelor and bachelorette parties, bridal shower, wedding and reception! Do you envision fun, simple and whimsical decorations and party favors? How about exquisite, impeccable wedding gifts for your attendants and bridal party? Personalized invitations, place cards, and thank you notes, to banners and balloons, we can adorn your celebration with style. Surprise your groomsmen with a unique flask, or your bridesmaids with custom bridal jewelry from one of Portland's gift shops.
Portland has everything you need to make your wedding process a beautiful and fun affair. From edible favors, chocolates and candies, to eco-friendly, etched or hand-carved favors, we've got it all. Portland offers organic Northwest local coffees and teas, monogrammed wine bottles, wine stoppers, coasters, candles and a plethora of other wedding favors. If you're hosting a sit-down dinner, an hors d'oeuvres soiree, or a fabulous Oregon barbeque with family and friends, you'll find the perfect personalized table settings and place setting gifts to set the scene for the wedding.
Have a blast with the details and party favors in Portland!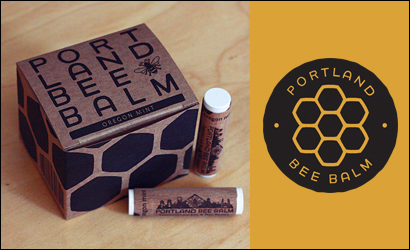 Portland Bee Balm
Portland, OR
(860) 575-4397
We believe that the world needs more beekeepers. Beekeeping creates a powerful link between the keeper and their natural environment. Guided by these beliefs and this insight, we make Portland Bee Balm with wax from northwest Oregon hives and just a few other carefully sourced organic and local ingredients.
www.portlandbeebalm.com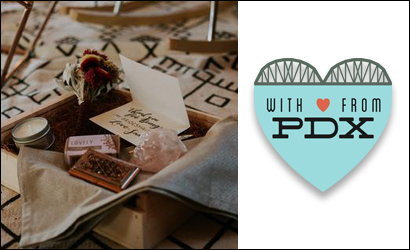 With Love, From PDX
Portland, OR
(503) 267-1472
With Love, From PDX curates custom gift boxes filled with local purveyors. We source all our goods in Portland, Oregon.
www.withlovefrompdx.com
Love Bottle
2250 NW 22nd Ave., Suite 414
Portland, OR 97210
(855) 568-3420
Love Bottle is a beautiful, reusable glass bottle, but it is so much more than a bottle. It is about spreading love. It is about improving your health. It is about helping the environment, and it is about helping people who need it.
www.lovebottle.com
Ecru Modern Stationer
1215 NW 11th Ave.
Portland, OR 97209
(503) 227-2611
Fancy That
1336 NE Orenco Station Pkwy.
Hillsboro, OR 97124
(503) 640-9909
Hagz Bagz & The Hutch
400 Columbia Blvd.
St. Helens, OR 97051
(503) 397-1352
Meyer and Market
Portland, OR
(509) 713-3915
New and Blue Invitations, Gifts & Accessories
210 W 11th St.
Vancouver, WA 98660
(877) 268-7117
Sincerely, The Bride
111 W 7th St.
Vancouver, WA 98660
(360) 953-8523
Sugar Shapes
Custom Cut, Hand Decorated Sugar Cookies
Portland, OR
(360) 910-4559
The Lippman Company
50 SE Yamhill St.
Portland, OR 97214
(503) 239-7007