Portland Lodging, Accommodations, Hotels & Resorts
You're getting married in one of the most beautiful Pacific Northwest cities – Portland. When you have guests attending the wedding from near and far, pre-booked accommodations are a must! When you visit Portland, Oregon, you'll want to stay. From five-star Portland hotels, intimate inns, Portland Bed & Breakfasts, resorts, vacation rentals and motels, you'll find the perfect place for you and your guests to rest your heads before and after the wedding.
Portland is a wedding destination. Why? Because the bustling Rose City is simply beautiful. It's home to the nicest people on the planet, and is nestled in the Willamette Valley with both the Columbia Gorge and the Oregon Coast within close reach. Whether you're looking for a luxurious suite at one of our high-class hotels on the waterfront in downtown Portland, a vintage room at one of Portland's boutique hotels in the Pearl District, or a hotel near the Portland Convention Center or Portland Airport, everything you're looking for is here.
If you're getting married in one of Portland's downtown ballrooms or venues, or out toward the Oregon Coast or Oregon countryside, you've got a lot of accommodations to choose – from inexpensive to pricey. Many of Portland's hotels offer hotel group rates, guest shuttle service and a complimentary breakfast, which is a great deal for family and friends staying here from out of town. In the spirit of Portland, many are pet-friendly!
If you're looking for some swanky digs, Portland is home to some of the best posh hotels in the Willamette Valley. Five-star hotels in Portland offer unsurpassed services and chic suites to cater to your wedding party – from concierge services, to private workout facilities, to luxurious spa services, private pools and hot tubs, the luxury amenities are endless. Your stay in Portland will be one to remember.
So, look around! Whether it's a Portland vintage hotel room, a luxury suite overlooking the Willamette River, or a simple room, you'll find the perfect place for your taste!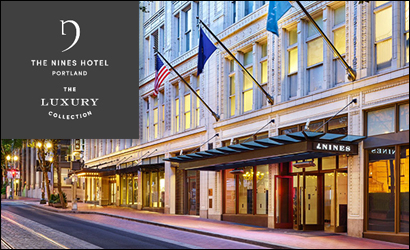 The Nines - A Luxury Collection Hotel
525 SW Morrison St.
Portland, OR 97204
(503) 802-4830
Poised in the heart of the city center at the top of one of Portland's most beloved landmarks, the stately Meier & Frank Building, the Nines honors the structures storied past, both in its striking decor and impeccable service. This luxury hotel is an ideal spot to host your out of town guests, and your dream wedding. Whether you are planning an intimate ceremony or a grand celebration, let our Wedding Specialists custom design a specialty menu, with you and your guests in mind. Your special day is sure to be an enchanting and unforgettable event, leaving lasting memories.
www.thenines.com
The Oregon Garden
879 W. Main St.
Silverton, OR 97381
(503) 874-2517
With a lovely, rustic decor and a wealth of modern conveniences, the Oregon Garden Resort provides enchanting lodging in a picturesque setting. Overlooking the 80-acre Oregon Garden, our resort features spacious rooms, each with their own patio and fireplace. It also provides a full-service spa, an outdoor pool, and multiple venue spaces for corporate meetings, family reunions, and weddings.
www.oregongarden.org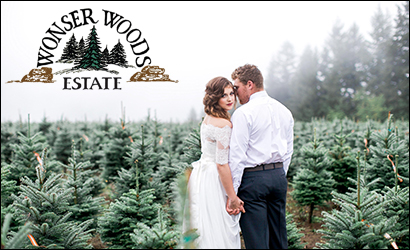 Wonser Woods Estate
24250 S Raney Ln.
Estacada, OR 97023
(503) 630-6749
Wonser Woods Estate is an elegant venue and five bedroom B&B located in the rolling hills of Clackamas County, Oregon. The natural setting sets the stage for your wedding with spacious outdoor areas, manicured landscaping and distinguished yet comfortably elegant interior. Relish the stunning views of Mt. Hood and the nearby mountains and valleys while enjoying the close proximity to Portland. You are sure to appreciate the thought that went into every detail of this stunning venue. Wonser Woods Estate looks forward to working with you to make all your wedding day dreams come true.
www.wonserwoodsestate.com
Kah-Nee-Ta Resort & Spa
6823 Highway 8
Warm Springs, OR 97761
(800) 554-4786
Kah-Nee-Ta Resort & Spa offers a variety of accommodations such as rooms with private balconies, teepees and even a full-service RV Park. We also have 15,000 square feet of flexible meeting space to host any event you need to plan. Come and enjoy 300 days of sun in Oregon's High Desert with us!
www.kahneeta.com
Balch Hotel
40 South Heimrich St.
Dufur, OR 97021
(541) 467-2277
Beak and Bloom Guest House / B&B
Battle Ground / Vancouver, WA
(360) 666-0538
Benson Hotel
309 SW Broadway
Portland, OR 97205
(503) 295-4100
Courtyard Marriott
Portland North Harbor – Riverside Veranda
1231 North Anchor Way
Portland, OR 97217
(503) 735-1818
Crowne Plaza Hotel - Downtown Portland
1441 NE 2nd Ave.
Portland, OR 97232
(503) 233-2401
Crowne Plaza Hotel - Lake Oswego
14811 Kruse Oaks Dr.
Lake Oswego, OR 97035
(503) 624-8400
DoubleTree Hotel - Downtown Portland
1000 NE Multnomah St.
Portland, OR 97232
(503) 281-6111
Embassy Suites - Downtown Portland
319 SW Pine St.
Portland, OR 97204
(503) 279-9000
Heathman Hotel
1001 SW Broadway
Portland, OR 97205
(503) 241-4100
Hilton Garden Inn - Lake Oswego
14850 Kruse Oaks Blvd.
Lake Oswego, OR 97035
(503) 684-8900
Hilton Portland & Executive Tower
921 SW 6th Ave.
Portland, OR 97204
(503) 721-2893
Hotel deLuxe
729 SW 15th Ave.
Portland, OR 97205
(503) 219-2094
Kimpton RiverPlace Hotel
1510 SW Harbor Way
Portland, OR 97201
(503) 295-6167
Kimpton Hotel Vintage & Pazzo Ristorante
422 SW Broadway St.
Portland, OR 97205
(503) 412-6316
Kimpton Hotel Vintage & Pazzo Ristorante
422 SW Broadway St.
Portland, OR 97205
(503) 412-6316
Loloma Lodge
56687 McKenzie Hwy.
McKenzie Bridge, OR 97413
visitloloma@gmail.com
Mark Spencer Hotel
409 SW 11th Ave.
Portland, OR 97205
(503) 224-3293
McMenamins Crystal Hotel & Ballroom
1332 West Burnside St.
Portland, OR 97209
(503) 288-3286
McMenamins Grand Lodge
3505 Pacific Ave.
Forest Grove, OR 97116
(503) 992-9530
McMenamins Hotel Oregon
310 NE Evans St.
McMinnville, OR 97128
(503) 472-8427
McMenamins Kennedy School
5736 NE 33rd Ave.
Portland, OR 97211
(503) 288-3286
River's Edge Hotel & Spa
0455 SW Hamilton Ct.
Portland, OR 97239
(503) 802-5800
Sentinel Hotel
614 SW 11th Ave.
Portland, OR 97205
(503) 224-3400
Skamania Lodge
1131 SW Skamania Lodge Way
Stevenson, WA 98648
(509) 427-2515
The Westin Portland
750 Southwest Alder St.
Portland, OR 97205
(503) 294-9000
URBAN 550
At the Courtyard by Marriott – Portland City Center
550 SW Oak St.
Portland, OR 97204
(503) 505-5000