Portland Tuxedo Rental, Suits & Formal Wear
Let's get fit! The bride's gown is in the final stages of alteration, the bridesmaids dresses are ready to go, and now it's time to choose the formal wear for the Groom and his men in your wedding party!
Our Portland tuxedo rental companies offer a variety of gentlemen's wedding attire for any taste, from casual men's wear to formalwear. If you're a groom looking for a custom-tailored designer suit, a vintage tuxedo or vintage suit, or a classic tuxedo, Portland's suit rental and tuxedo rental companies offer a variety of fashions and garments to make the men in your wedding party look like a million bucks. From ties, vests, jackets and slacks to socks, shoes, shirts and hats, no detail will be ignored!
When deciding on the look you'd like to achieve for your groomsmen, father of the bride, best man, ushers and the other special gentlemen in the wedding party, think about the theme and color scheme of the wedding. Do you have a specific color of pocket square you'd like to accent the suit, or custom cuff links for the men in the wedding party? From the little details to the handsome overall look, Portland's suit and tuxedo companies will ensure the guys are dapper on the wedding day!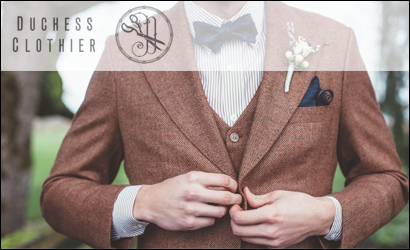 Duchess Clothier
2505 SE 11th Ave., #102
Portland, OR 97202
(503) 281-6648
Duchess Clothier provides its customers the thrill of high quality suits and other garments, both custom and off-the-rack, as well as excellent, impassioned, and insightful service. We guarantee our signature perfect fit for women, men, and everybody in between regardless of body shape or size.
www.duchessclothier.com
Bowyer & Fletcher
917 SW Oak St., Suite 312
Portland, OR 97205
(971) 200-5155
Brooks Brothers
921 SW Morrison St.
Portland, OR 97205
(503) 223-4039
David's Bridal - Beaverton
9125 SW Cascade Ave.
Beaverton, OR 97008
(503) 646-3751
David's Bridal - Happy Valley
12225 SE 82nd Ave.
Happy Valley, OR 97086
(503) 653-9800
Exclusively Bridal
101 E B Ave.
Drain, OR
(541) 836-2916
Halo Shoes
938 NW Everett St.
Portland, OR 97209
(503) 331-0366
John Helmer Haberdasher
969 SW Broadway
Portland, OR 97205
(503) 223-4976
Jos. A. Bank Clothiers
9611 SW Washington Square Rd
Portland, OR 97223
(503) 598-9960
Joy's Uptown Style
1627 NW Glisan St.
Portland, OR 97209
(503) 223-3400
Marios
833 SW Broadway
Portland, OR 97205
(503) 227-3477
Men's Warehouse - Downtown
851 SW 6th Ave.
Portland, OR 97204
(503) 274-0610
Michael Allen's Clothier
811 SW Morrison
Portland, OR 97205
(503) 221-9963