Portland Recycling, Cleanup, Set-Up & Take-Down
Everyone needs help before and after their wedding. Whether it's setting tables, chairs, linens and center pieces before the ceremony, to taking down decorations and cleaning up the wedding venue at the end of the night, we have you covered. Let our wedding clean-up companies take some of the stress away so you can enjoy your big day!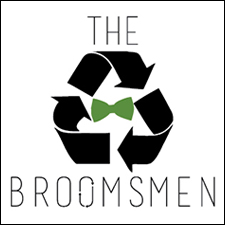 The Broomsmen
Eco-Weddings
Setup, Staffing, Breakdown, Cleanup, Haul Away, and Recycling Service
(541) 213-1131
Yes, that's correct, it's not a spelling error… The Broomsmen! Catchy, huh? The Broomsmen is a Central Oregon based business tackling the jobs your real groomsmen want no part of, or have time for on your wedding day – setup and cleanup! In addition to providing extra hands, we also promote zero waste and green events!
www.thebroomsmen.com
Tidy Gnomes
Portland, OR
(503) 575-6393
Tidy Gnomes are magical creatures that assemble, set-up and arrange all the elements you have planned for your special day. We transform spaces during transitions and clear and clean it all away when the party's over. We even offer our hands to those unforeseen, last minute errands and details.
www.tidygnomes.com