Portland Photo Booths
The wedding reception – it's a time for you and your guests to mingle, enjoy appetizers, and let that hair down! What better way to provide entertainment for your guests than with a photo booth? Portland's Photo Booth companies offer an exciting, unique way to get candid photographs of you and your guests, while your professional photographer is free to capture candid photographs and portraits during the reception. Photo booth companies know what they're doing. In addition to weddings, they also cater to birthday parties, corporate events, fundraisers and other social events, so they've got the experience to make the night fun for all!
Remember the excitement of crowding a ton of your friends into an old-fashioned photobooth, making faces, and feeling the anticipation as the photo strip was delivered? Well, now it's even better. Digital photo booths are mobile, many are touch-screen operated, and are delivered on-site. Fun props, backdrops, backgrounds and filters can be included, whether you're looking for a retro, vintage, color, or black and white look.
Professional booth attendants keep things moving to ensure a seamless and exciting experience for everyone when they're behind the curtain, so they can all have a great time! Most photo booth rental companies in Portland offer digital copies of all the pictures taken throughout the night, and additionally post photos on a secure website for your family and friends to view. What a fun thing to look forward to when you return from your honeymoon!
Not only are the photo strips and prints immediately printed, they can be personalized with custom text and custom logos to match your wedding theme. Want an idea? Purchase an album to display on a table near the booth where your guests can insert their photos, and write captions to congratulate you on your perfect day!
You and your wedding party and guests will have a blast getting candid photos. Whether they're funny or serious, you'll have memories caught on photo strips to remind you of the wedding day fun for years to come.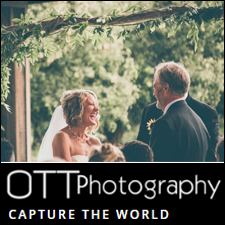 Ott Photography
Salem, OR
(503) 389-6356
At OTT Photography we are all about capturing the details of your special day and preserving your valuable memories for years to come. While you enjoy every precious moment, I will be working quietly in the background, taking candid photos of your ceremony, reception, friends and loved ones as you celebrate!
www.aottphotography.com
Aniko Productions
Portland, OR
(503) 833-2479
Blue Bus Creatives
44 W Broadway St., Suite 212
Eugene, OR 97401
(541) 632-3509
Cameo Photobooth
1535 SE Pine St.
Portland, OR 97214
(503) 957-7758
Chad Dowling Productions
Mobile Disc Jockey Service
P.O. Box 33551
Portland, OR 97292
(503) 320-0895
Dancin Tunes
Tualatin, OR
503-351-7393
Flash Photo Booth
Portland, OR
(503) 475-0554
Good Booth
Portland, OR
(208) 863-4899
Hammie the (Vintage Trailer) Photo Booth
Portland, OR
(503) 806-0199
Happymatic Photobooth Co.
1214 SE Madison
Portland, OR 97214
(503) 953-3464
IlloBooth
Portland, OR
(503) 209-0159
Jazz It-Up Productions
15532 SW Pacific Hwy., C1B 317
Tigard, OR 97224
(503) 620-2606
Limelight Photo Booth
Portland, OR
(800) 342-9631
Michael Gary Photography
5540 SE Liebe St.
Portland, Oregon 97206
(503) 752-4928
Moto Foto ; The VW Photo Booth Experience
Portland, Oregon
(304) 804-MOTO(6686)
Mt. Hood Photo Booth
Portland Metro Area
(503) 360-2221
Oooh Snap! Photobooth
Portland, OR
(503) 460-7148
Paparazzi Tonight
Portland, OR
(503) 939-6097
Party Booths Northwest
Portland , OR
(503) 756-2832
Party Cat!
Portland, OR
(941) 380-1009
Party Pix PDX
Vancouver, WA
(360) 695-4434
Phototainment
Portland, OR
(503) 451-6772
Picstop
4353 NE Halsey St., #7
Portland, OR 97213
(503) 530-0139
Portland Photo Party
15094 NW Decatur Way
Portland, OR 97229
(866) 802-8205
Portland Photobooth
2612 NE 23rd Ave.
Portland, OR 97212
(503) 922-3131
The Oregon Photo Booth Rental Co.
2145 Cedar Hills Blvd.
Portland, OR 97225
(503) 389-5848
The Original Photo Booth
P.O. Box 18132
Portland, OR 97218
(888) 664-8672
The SnapBar - A Photo Experience Company
Portland, OR
(206) 802-9665