Portland Oregon Wedding Officiants
Wedding vows; heartfelt words that express your deepest feelings. The words you exchange with your partner live in your hearts forever. They are the focus of your ceremony. If you're unsure how to put your feeling into words, Portland, Oregon wedding officiants are here to guide you.
No matter what your faith or beliefs, you'll need someone to conduct your wedding ceremony. From your engagement to the wedding day, an officiant provides advice. They help you decide what to say and advise you on the wedding. They have the authority to marry you and to help you plan it all out. Officiants are flexible. They tailor the ceremony to meet your needs. They'll work with you to make sure things go just as you hoped they would. They prepare special words that are just for you and your partner.
Officiants help with more than just your ceremony too. Marriage is a lifelong journey, and many couples seek counsel before the wedding. Portland wedding officiants provide guidance prior to the wedding. They ensure that you and your partner say your vows with clear commitment and intent.
Will your wedding service be traditional, contemporary or alternative in nature? Our experts help you conduct your ceremony exactly as you envision it. Whether your service will be religious, atheist, inter-faith, or multi-faith, we work with you. Many officiants in Portland offer elopement service as well. We accept all people in the Rose City. So if you're looking for a same-sex marriage service, it's no problem.
Whether you're eloping at the courthouse or saying your vows in a planned ceremony, you'll need an officiant. So whether you're looking for a priest, pastor, or same-sex wedding officiant, we can help.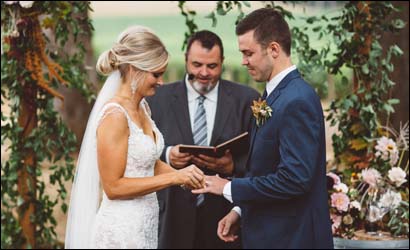 EC Matrimony
PO Box 1372
Beaverton, OR 97005
(503) 819-4257
Award-winning, 5-star rated wedding officiant who will help you create a unique, personal wedding ceremony. Contact today!!
www.ecmatrimony.com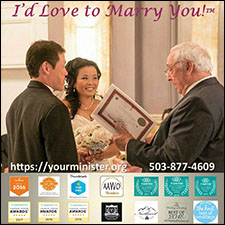 Jon Turino Wedding Officiant
Portland/Vancouver Region
(503) 877-4609
Congratulations on your engagement! You CAN have the wedding ceremony of your dreams! A tailored, personalized ceremony that is warm, captivating, and memorable and that meets all of your needs, wants, and desires. Contact me soon for available dates. I'd Love To Marry You!™
www.yourminister.org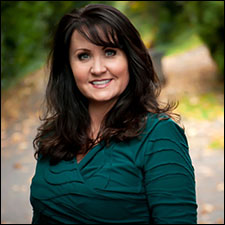 White Dove Weddings and Wellness
With Rev. Chenin West
Serving Oregon and Washington
(360) 901-9790
For over two decades Rev. Chenin West has preformed romantic, personalized wedding ceremonies in Oregon and Washington. Always inspired by your wishes and words, the ceremonies she writes are tasteful, elegant and fun. Whether yours is a lavish wedding or intimate gathering, she will bring the details of your love story into being, creating a tender commemoration of your love and commitment to each other. Rev West offers an all inclusive private consultation, personalized writing service, the officiation of your ceremony and legalization of your marriage license in her base fee. A mileage or rehearsal fee may occur. Make your day every bit as magical as you are dreaming it to be with Rev. Chenin West.
Weddings, Elopements, Vow Renewal, Same Sex Weddings. Reverend Chenin West offers individual and relationship-solution based coaching in addition to ceremonial services.
www.whitedove.info
A Beautiful Ceremony NW
2612 SE Clinton St.
Portland, OR 97202
(503) 890-0193
A Beautiful Wedding is Yours
Portland, OR
(503) 913-8857
A Festive Heart
Portland, OR
(503) 263-5229
A Perfect Ceremony
Portland, OR
(503) 421-3213
Carroll R. Myers - Pastor
1011 SE 98th Ave.
Vancouver, WA 98664
(360) 607-8908
Cathy Hume - Minister & Wedding Officiant
Portland, OR
(503) 957-9942
Diva Matters Ministry
7140 SW Fir Loop, Suite 210
Portland, OR 97223
(503) 998-7481
Holly Pruett - Life-Cycle Celebrant
Portland, OR
(503) 348-0967
Jon Turino - Wedding Officiant + Minister
Portland/Vancouver
(503) 877-4609
Loretta Rossini - Wedding Officiant
10424 SE Cherry Blossom Dr., Suite B1
Portland, OR 97216
(503) 522-7303
Maureen Haley - Wedding Officiant
P.O. Box 80422
Portland, OR 97280
(503) 888-9876
Melissa Coe Ceremonies
Portland, OR
(503) 803-2385
Oregon Beach Ceremonies
Nehalem, OR
(503) 702-0737
Rev. Myrna Yoder
1523 NE Skidmore St.
Portland, OR 97211
(503) 407-5264
Rev. Rose Woodruff - Wedding Officiant
Vancouver, WA
(360) 356-4986
Rooted & Wild: Spirited Ceremonies
Portland, OR
Available for travel throughout the Pacific Northwest
(971) 319-2681
Sage Creative
15258 SW Teal Blvd., Suite C
Beaverton, OR 97007
(503) 579-8125
South Sound Weddings
Serving Oregon, Washington, & California
(360) 931-0826
The Wedding Judge
Portland, OR
(503) 798-0110
The Wedding Officiant - Heather Ann Mack
Hillsboro, OR
(503) 206-9612
Wedded Your Way - Officiant Services
9860 SW Hall Blvd., Suite C-4
Portland, OR 97223
(503) 628-8518
Weddings By Angel
Seaside, OR
(360) 590-4207
Weddings by Pastor Sandi
2541 SE 31st Ave.
Portland, OR 97202
(208) 724-5462