Portland Live Music & Local Bands
Are you looking for the perfect live wedding band in Portland? Look no further. Portland's got some of the most talented professional musicians in the business, for every moment of the wedding day – from the time the guests are seated for the wedding ceremony to the last dance of the reception.
Many couples want their guests to enjoy light background music before the wedding and during the cocktail hour. Chamber music, Celtic and classical pieces are very popular during these times. A string quartet or other instrumental and acoustic group is the perfect accompaniment to the visual beauty and excitement of the day. If you like vocals in the mix, Portland's outstanding duos, trios and quartets will perform throughout the day and will engage you and your guests in beautiful song.
The style of music you choose can really set the tone for the day. From traditional wedding music to contemporary pieces, you're sure to find the Portland musicians who are right for you. From piano and guitar, to strings and bagpipes during the ceremony, Portland's live bands will make your walk down the aisle harmonious.
Get the dancing started with one of Portland's cover bands or variety bands! Finding exciting entertainers is easy in the Rose City. Whether you're looking for funk, rock, disco, R&B, Jazz, Bluegrass, country, swing, oldies or blues, your first dances and reception music will keep you and your guests dancing the night away!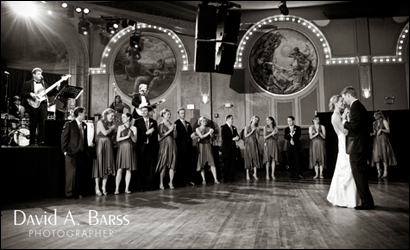 Pressure Point Band
6916 SE 17th
Portland, OR 97202
(503) 234-2492
Pressure Point is the premier variety band in the Portland area. The repertoire is unmatched in terms of versatility and polish. Pressure Point covers music spanning six decades, satisfying musical tastes from nearly all age groups. Pressure Point makes music the old fashioned way, we play it! We use no sequencers or "karaoke" tracks as do some other popular bands. With Pressure Point, you get the experience of talented, veteran performers who combine professionalism, enthusiasm, and a high level of musicality to create an atmosphere of fun and excitement that will make your function an event to remember. The lineup for Pressure Point is filled with some of Portland's finest musicians and singers.
www.pressurepointband.com
24-7 Band
Vancouver, WA
(360) 600-9101
3 Leg Torso
Portland, OR
(503) 740-9614
5 Guys Named Moe
Portland, OR
bookings@themoes.com
A Dancing Penguin Music
2000 NE 42nd Ave., #296
Portland, OR 97213
(503) 282-3421
Aaron Meyer - Concert Rock Violinist
P.O. Box 25486
Portland, OR 97298-5486
(503) 550-9463
Bollywood Dreams Entertainment
Portland, OR
(503) 344-2022
Boy and Bean
Portland, OR
(253) 232-2560
Collage Music
7819 SE Henry St.
Portland, OR 97206
(503) 231-1423
Duo con Brio
Portland, OR
(503) 407-6256
DW Duo
Dawn Grishow: Harpist – Singer – DJ
Portland, OR
(503) 642-9509
Effesenden Music
P.O. Box 6411
Portland, OR 97228-6411
(503) 860-7688
Honey Don't
20002 Powers Rd.
Bend, OR 97702
(970) 270-2276
John D. Goff - Bagpiper
Portland, OR
(503) 950-5599
John Ross Music and Production
3439 NE Sandy Blvd., #442
Portland, OR 97232
(503) 515-3559
La Tua Musica
Portland, OR
(503) 249-0583
Mariachi Viva Mexico
Portland, OR
(503) 804-4297
Melegari Chamber Players
Portland, OR
(971) 266-4126
Midnight Honey
Portland, OR
(971) 645-6857
Notes of Celebration
Beaverton, OR
(503) 645-2763
Patrick Lamb
Portland, OR
(503) 335-0790
Second Wind Jazz
Portland , OR
(503) 292-3996
Swingline Cubs
Portland, OR
(503) 209-8414
The House of Cards Music
Portland, OR
(503) 231-1423
The Wild Wood
Portland, OR 97217
(503) 250-2723
Trashcan Joe
Portland, OR