Portland Wedding Invitations & Calligraphy
Save the date! You're engaged, and having a blast planning your wedding in Portland. What better way to invite your family and friends to share this journey with the two of you than with unique, personalized wedding invitations?
Portland's got some seriously creative people who will custom-design everything you need, from engagement announcements, save-the-date cards, wedding invitations and RSVPs to guest books and thank you cards. Our beautiful Rose City is known for our artistic community, so finding the perfect Portland calligrapher, lettering artist or invitation designer is a cinch. Portland's professional letterpress, printing and calligraphy companies will create elegant designs to beautify your ceremony, wedding and reception.
Do you have a traditional, contemporary, modern, formal, vintage or elegant wedding theme? Your wedding invitations will give your guests a glimpse of the wedding day, and Portland Weddings is the best place to find the perfect Portland artist for your day.
Portland's custom invitation professionals offer fine paper services and calligraphy for every taste. From high-quality digital invitations, handmade letterpress designs, to hand-written place cards for the bridal shower, we've got it. All the details – signs, personal envelope addressing, programs and invitations, menu placards, and table markers will complete your Portland wedding design.
Lastly, in the spirit of Portland – don't forget to think about our beautiful Pacific Northwest. Eco-friendly invitations are available for your special event. We Oregonians are earth-friendly folks. We're inherently green, and "recycle" is our middle name. You'll have no problem finding the perfect wedding invitation design services that will leave an imprint on your heart, but not on the earth.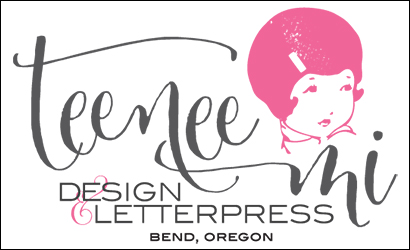 Teenee Mi Design & Letterpress
Portland, OR
(541) 204-0388
Teenee Mi Design & Letterpress is a boutique letterpress printing and graphic design studio based in Bend, Oregon. We specialize in custom wedding invitations, announcements, thank you cards, personal stationery, save-the-date cards, business cards and other custom printed goods.
www.teeneemi.com
1st Comes Love... Custom Invitations
Portland, OR
(503) 356-8351
Alesia Zorn Calligraphy & Engraving
Portland, OR
(503) 287-3207
Anders Printing Co.
3402 SE Division St.
Portland, OR 97202
(503) 232-5842
Avaric Letterpress
3514 NE 155th Ave.
Vancouver, WA 98682
360-836-5993
Blue Bonsai Printing
Woodburn, OR
(503) 952-6039
Crave Design
Portland, OR
(503) 789-8531
Creations by Ly
915 NW 19th Ave., Studio F
Portland, OR 97209
(503) 208-5188
Ecru Modern Stationer
1215 NW 11th Ave.
Portland, OR 97209
(503) 227-2611
Egg Press
2181 NW Nicolai St.
Portland, OR 97210
(503) 234-4233
Elation Art
9210 N Peninsular Ave.
Portland, OR 97217
(503) 896-7202
elli
Portland, OR
(800) 443-5289
Invitations by Liv
Albany, OR
(541) 730-3616
Katie Michelle Designs
Madras, OR
(541) 602-0286
Lakeside Paper Co.
Portland, OR
lakesidepaperco@gmail.com
Lark Press
3901 N. Williams Ave.
Portland, OR 97227
(503) 546-9930
Lettuce Press
2614 F St.
Vancouver, WA 98663
(503) 688-0184
Masgrimes Calligraphy
Portland, OR
(520) 507-5813
Meyer and Market
Portland, OR
(509) 713-3915
New and Blue Invitations, Gifts & Accessories
210 W 11th St.
Vancouver, WA 98660
(877) 268-7117
Nimbi Creative Studio
Portland, OR
(503) 863-6994
Oblation Papers & Press
516 NW 12th Ave.
Portland, OR 97209
(503) 223-1093
Paper Bloom Custom Invitations & Designs
Portland, OR
(971) 645-9155
Paperjam Press
4730 NE Fremont
Portland, OR 97213
(503) 238-5777 x10
Precious Bugarin Design
1017 SW Morrison, Suite 502
Portland, OR 97205
(503) 804-6423
Puddle Jumpin' Cards
133 SE Madison St.
Portland, OR 97214
(503) 539-2901
Studio Olivine
1319 SE MLK, #144
Portland, OR 97214
(971) 570-5461
The Card Bar
4473 Lakeview Blvd.
Lake Oswego, OR 97034
(503) 953-4056
Tie That Binds
Portland, OR
(845) 596-8825
Your Perfect Bridesmaid
2552 NW Vaughn St., Suite E
Portland, OR 97210
(503) 984-8652