Portland Oregon Wedding DJs & Wedding Music
If you're searching for a wedding DJ in Portland, Oregon then you've come to the right place. Portland's disc jockeys and entertainment companies will surely meet all of your needs. Music is one of the most important parts of the wedding ceremony, and a skilled DJ will play the perfect song for every moment of your special day.
So how do you choose the perfect wedding music? First, you must consider your timeline. Do you want classical background music while the guests are seated? Have you chosen the perfect song for walking down the aisle? How about smooth jazz during cocktails? Of course, you'll want some fun party music to get your guests dancing at the reception. Portland DJs create specialized playlists using the music you've specifically chosen. In the event that you can't decide what to music to choose, our DJs can help you pick the perfect songs. From classical and jazz to rock, pop, and Hip-Hop/R&B, our DJs have all of your favorite songs.
For the ceremony, Portland's experienced MCs provide outstanding audio/visual services. From microphones and sound systems to dance floors and party lighting, they've got the equipment you need to put on a truly memorable event. Your guests will hear every word during the vow exchange, while perfect lighting illuminates you.
Onto the party! When it's time to get on the dance floor, our DJs will set the stage for the first dance of the night to the last. You and your guests can boogie down to your favorite songs all night long – indoors or outdoors. Don't forget to choose a special song for the bouquet toss, garter toss, toasts and cake cutting. When you choose an experienced Portland DJ, you can truly let loose and enjoy the music on your big day.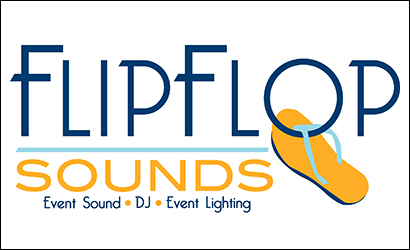 Flip Flop Sounds
Serving All of Oregon
(541) 633-9775
We strive to make every wedding stress free, and the way you imagined it would be. We take a relaxed, detailed approach to your wedding. Executing your timeline, keeping your wedding from having any of those "awkward lulls" and making sure you and your guests have a great night. We use modern approaches to ensure you are kept as the focus of the evening, not us. Our custom lighting options, bubble machines, included dance floor lighting, and other options enhance your already amazing wedding.
www.flipflopsounds.com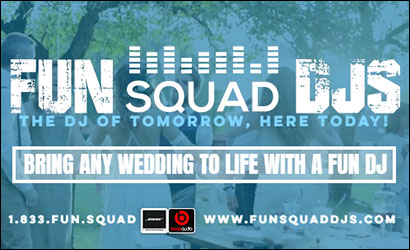 FUN SQUAD DJS
Portland, OR
(833) 386-7782
Fun Squad DJs is a full-service FUN DJ entertainment company creating memories across the Pacific Northwest.
www.funsquaddjs.com
Star Productions DJs
PO Box 3111
Vancouver, WA 98660
(888) 349-4235
Dave is the owner and founder of Star Productions DJs, and has been in business as a DJ/MC/VJ/KJ a Pro Sound guy, Pro lighting guy and Pro video guy for over 30 years. His goal is customer satisfaction and earns his hundreds of 5 STAR reviews by doing what he promises his clients!
www.starproductionsdjs.com
2 Guys Sound
Yes, I do travel!
Sandy, OR
(503) 890-4870
A Beat Above Entertainment
P.O. Box 91572
Portland, OR 97291
(503) 422-7061
A Dancing Penguin Music
2000 NE 42nd Ave., #296
Portland, OR 97213
(503) 282-3421
A Sound Choice Entertainment
Portland, OR
(503) 557-8554
Apogee Events
247 Commercial St NE
Salem, OR 97301
(503) 851-1106
Bust-A-Move DJ Service
Vancouver, WA
(503) 201-3710
Chad Dowling Productions
Mobile Disc Jockey Service
P.O. Box 33551
Portland, OR 97292
(503) 320-0895
Dancin Tunes
Tualatin, OR 97062
(503) 351-7393
David Efaw Productions
P.O. Box 1227
Portland, OR 97035
(503) 229-4393
Dj Cutt Entertainment
Portland, OR
(503) 752-6324
DW Duo
Dawn Grishow: Harpist – Singer – DJ
Portland, OR
(503) 642-9509
Encore Mobile DJ's
736 NW 118th Ave.
Portland, OR 97229
(503) 724-4983
Event Team Entertainment
Lake Oswego, OR
(503) 380-9479
High Fidelity Entertainment
Vancouver, WA
(360) 576-6589
Hit Squad DJs
Portland, OR
(503) 858-8320
Jazz It-Up Productions
15532 SW Pacific Hwy, C1B 404
Portland, OR 97224
(844) 3-JAZZITUP
Media Jockeys
6916 SE 17th
Portland, OR 97202
(503) 234-2492
Noteworthy DJs
735 SW St Clair Ave., #1007
Portland, OR 97205
(503) 770-0382
NW Mobile DJ Service
P.O. Box 80896
Portland, OR 97280
(503) 380-6319
Paradox Productions
Vancouver, WA
(503) 974-8553
Rising Phoenix Productions LLC
Eugene, OR
(541) 953-6222
Rose City DJs & Events
P.O. Box 16545
Portland, OR 97292
(503) 422-1331
Rose City Mobile Music
P.O. Box 363
Gladstone, OR 97027
(503) 752-4489
Stumptown DJs
2552E NW Vaughn St.
Portland, OR 97210
(503) 877-3357