Portland Cocktail Catering & Beverage Services
Let's get this party started! Cocktail hour is the perfect time for wedding guests to catch up with family and friends before the ceremony. What better way to kick off the evening than with a fabulous specialty drink, Oregon wine or microbrew, while noshing on delicious hors d'oeuvres with the wedding party?
Portland's cocktail catering and beverage catering companies are here to serve you and your guests the best libations around, from the pre-ceremony refreshments, to dinner and toasts during the wedding reception. The Pacific Northwest is home to an abundance of breweries, wineries and distilleries which offer a fabulous selection of award-winning beers, wines and spirits for your guests to enjoy.
The professional staff and bartenders at Portland's beverage catering and mobile bar companies provide exceptional, on-site bar service at your wedding venue. Do you have a themed cocktail or drink in mind? Not a problem. The bartenders at Portland's bar service companies will create a unique concoction to remember. Licensed servers will ensure your guests receive the most delectable drinks and serve up the fun with a twist!
Cheers!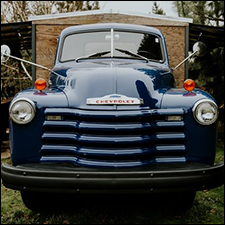 Booze Trucks
220 NW 8th Avenue
Portland, OR 97209
(503) 926-4233
Full event beverage services from our 1953 Chevy booze truck, Betsy. Onboard refrigeration, six keg taps, wet bar, brick backsplash, reclaimed wood tables – all delivered in our vintage bar truck.
www.boozetrucks.com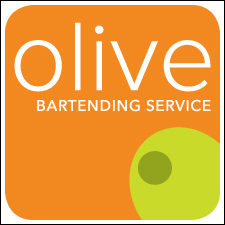 Olive Bartending Service
Serving All of Oregon
(541) 508-9008
Olive's amicable bartenders will mix, shake and pour the experience that you are looking for. Our licensed and experienced staff are customer service specialists that understand that the bar is the hub of the party. Whether you are providing your own beer and wine, or a full cocktail selection, Olive Bartending will manage your beverage service from top to bottom. Be a guest at your own party, book your wedding today with Olive Bartending Service!
www.olivebartending.com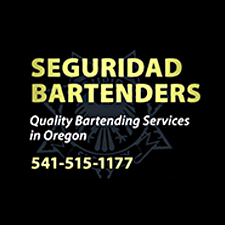 Seguridad Bartending
Serving all of Oregon
(541) 515-1177
Seguridad Security is a thriving new company that provides quality security and bartending services for weddings and events around Oregon.
www.seguridadsecurity.com
Crave Catering
1324 SE 8th Ave.
Portland, OR 97214
(503) 224-0370
Blue Stag Mobile Bar
24959 S. Central Point Rd.
Canby, OR 97013
(503) 367-8196
My Bartender
2305 SE 9th Ave.
Portland, OR 97214
(503) 278-7349
Krystle Clear Events
Krystle Allen – Event Coordinator & Bartender
Portland, OR
(541) 517-9331
Portland Bartender Express
Portland, OR
(971) 222-4370
Portland Catering Company
7800 SW Durham Rd.
Portland, OR 97224
(503) 620-8855
The WaitStaff Team
Portland, OR
(503) 460-7755
Vespertine & Co.
135 Hatton Ave.
Eugene, OR 97404
(530) 545-9236