Portland Catering & Food Services
Attention foodies: Welcome to the culinary mecca that is Portland, Oregon. If you live here, you already know where to go to get the tastiest bites the city has to offer. Chefs in the Northwest take food seriously. It's a way of life. If you're thinking local, seasonal or specialty ingredients, you'll be blown away by the Northwest's extensive and unique offerings.
Portland's catering companies can create top-notch hors d'oeuvres, salads, entrees and desserts for you and your guests. Portland offers the most delectable selection of local meats and produce you can find. If you're looking for local, we've got it. Organic? Not a problem. From tapas, to BBQ, to New World Cuisine, Portland caterers offer it all.
So whatever your vision: hors d'oeuvres and appetizers, an elaborate banquet dinner with immaculate presentation, or a custom buffet complete with local Oregon fare, our culinary experts will design a personal menu from the cocktail hour through dinner and the dessert reception.
Whether you'd like a pre-arranged menu selection, or a la carte menu choices, you'll experience the gamut of culinary masterpiece in the Rose City.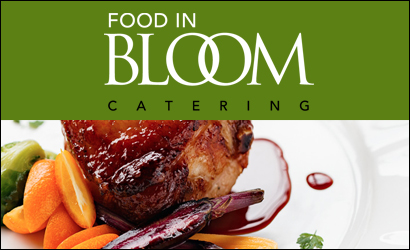 Food in Bloom Catering
2701 NW Vaughn Street, Suite 210
Portland, OR 97210
(503) 944-6820
Food In Bloom is committed to being the cornerstone of Portland catering. For over 35 years, our chefs have focused on local, organic and handmade cuisine.
www.foodinbloom.com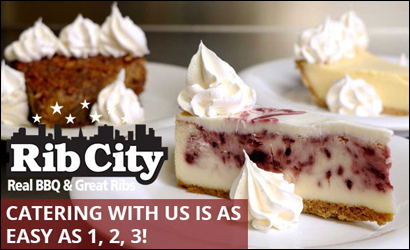 Rib City Catering
14415 SE Mill Plain Blvd.
Vancouver, WA 98684
(503) 501-0046
Local Rib City owner, Morgan Terrill, has been serving diners for over 11 years. Events Rib City has served in the past include The Wine and Jazz Fest, Hot Summer Nights, Taste of Vancouver, and the Vancouver Fourth of July celebration. Rib City has catered weddings, high school reunions, and corporate events.
To all catering orders, a standard 15% gratuity applies.
www.ribcitycatering.com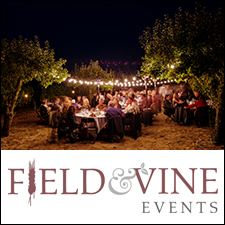 Field & Vine Events
1914 Willamette Falls Dr., Ste. 120
West Linn, OR 97068
(971) 258-8389
A full service catering and events company specializing in farm to table and outdoor catering. We're passionate about connecting greater Portland with Oregon's farm and wine country to create the most unique and memorable experiences. We plan and cater amazing weddings, private parties and corporate events.
www.fieldandvineevents.com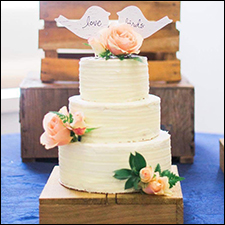 Sara's Creations
Portland, OR
(503) 970-1264
I love making people happy with cake! Located in Portland, OR. Custom cakes, cupcakes, cookies and more!
www.facebook.com/sarasbakingcreations
¿Por Qué No? Taquería
4635 SE Hawthorne Blvd.
Portland, OR 97215
(503) 954-3138
A Matter of Taste
Lake Oswego, OR
(503) 750-3011
Adrianna Hill Grand Ballroom
918 SW Yamhill St., #2
Portland, OR 97205
(503) 227-6285
Art Of Catering
1019 NW Everett
Portland, OR 97209
(503) 231-8185
Artemis Foods
1610 SE 3rd Ave.
Portland, OR 97214
(503) 233-8539
As Good As It Gets Catering
by Cheryl's on 12th
1135 SW Washington
Portland, OR 97205
(503) 575-9968
Buenos Dias Catering & Events
by Verde Cocina
Portland, OR
(503) 867-5961
Busy Bee Catering
P.O. Box 295
Welches, OR 97067
(503) 622-6743
Catering Beyond Borders
Portland, OR
(503) 227-3515
Catering by Laurie
16789 SW Juilann Lane
Aloha, OR 97007
(503) 642-3934
Chef du Jour Catering
736 SE Powell Blvd.
Portland, OR 97202
(503) 222-4553
ChefStable Catering
611 SE Grant St.
Portland, OR 97214
(503) 238-8889
Claeys Catering Inc.
P.O. Box 1940
North Plains, OR 97133
(503) 647-1987
Company Tonight Catering
634 NW Flanders
Portland, OR 97209
(503) 206-7410
Crave Catering
1324 SE 8th Ave.
Portland, OR 97214
(503) 224-0370
Dairy Hill Ice Cream
6352 SW Capitol Hwy.
Portland, OR 97239
(503) 246-2374
Dalton's Northwest Catering
8530 SW Pfaffle St.
Tigard, OR 97223
(503) 639-7211
DeAngelo's Catering & Events
9037 SW Burnham St.
Tigard, OR 97223
(503) 620-9020
Delilah's Catering
850 NE 81st Ave., #121
Milepost 5
Portland, OR 97213
(971) 222-4767
Devil's Food Catering
722 N Page St.
Portland, OR 97227
(503) 233-9288
Divine Occasions Catering
20449 SW T.V. Hwy., #375
Aloha, OR 97006
(503) 407-5002
Eat Your Heart Out Catering & Culinary Events
1230 SE 7th Ave.
Portland, OR 97214
(503) 232-4408
Elephants Catering
700 SE Clay Ave.
Portland, OR 97214
(503) 937-1099
Expressions Catering at the Stafford
1200 Overlook Dr.
Lake Oswego, OR 97034
(503) 636-4589
Feastworks Delicatessen & Catering
1325 SE Tacoma St.
Portland, OR 97202
(503) 284-1704
GP Catering
39 B Ave.
Lake Oswego, OR 97034
(503) 697-7355
It's Party Time Catering, BBQ's and Events
P.O. Box 1375
Sherwood, OR 97140
(503) 628-3616
Jake's Catering
614 SW 11th Ave.
Portland, OR 97205
(503) 241-2125
Kam & Kam Catering
10050 Old Cornelius Pass Rd.
Portland, OR 97231
(503) 629-1708
Killa Bites
Ridgefield, WA
(360) 635-8650
Kyra's Bake Shop
599 A Ave.
Lake Oswego, OR 97034
(503) 212-2979
Master's Meals Catering
14808 SE Powell Blvd.
Portland, OR 97236
(503) 760-6325
Mezzaluna Fine Catering
Portland, OR
(503) 442-1111
Nineteen27 S'mores | S'mores Cart and Catering
Portland, OR
(503) 334-8080
Pacific Pie Company
1520 SE 7th Ave.
Portland, OR 97214
(503) 381-6157
Pampered Palette Catering
P.O. Box 172
Parkdale, OR 97041
(541) 399-0056
Piece of Cake Catering and Desserts
8306 SE 17th Ave.
Portland, OR 97202
(503) 234-9445
Portland Catering Company
7800 SW Durham Rd.
Portland, OR 97224
(503) 620-8855
Portland Paella Project
Portland, OR
(541) 840-5537
Premiere Catering
2432 SE Umatilla St.
Portland, OR 97202
(503) 235-0274
Rafati's Catering
1410 SW Morrison St., Suite 600
Portland, OR 97205
(503) 248-9305
Reedville Catering
2975 SW Cornelius Pass Rd., Suite D
Hillsboro, OR 97123
(503) 642-9898
Simpatica Dining Hall & Catering
828 SE Ash St.
Portland, OR 97214
(503) 956-6494
Tamale Boy
668 N Russell St.
Portland, OR 97227
(503) 780-6681
The Lamb's Table Catering Company
Portland, OR
(503) 206-9303
The Vegan Caterer
Portland, OR
(856) 924-1698
The WaitStaff Team
Portland, OR
(503) 460-7755
Urban Studio & Pearl Catering
935 NW Davis St.
Portland, OR 97209
(503) 860-0203
Vibrant Table Catering & Events
2010 SE 8th Ave.
Portland, OR 97214
(503) 297-9635
Voilà Catering
2010 SE 8th Ave.
Portland, OR 97214
(503) 297-9635
Wilfs Restaurant & Bar
800 NW 6th Ave.
At Union Station
Portland, OR 97209
(503) 223-0070