Portland Oregon Wedding Cakes, Bakeries & Desserts
So you're planning what to serve on your wedding day. Of course, you'll need a wedding cake, but where to start? Portland is home to so many award-winning bakeries and pastry chefs, the options seem endless indeed. We truly have it all; from specialty cakes and cupcakes to authentic French pastries. With us, you can quickly find the perfect pastry chef in Portland, Oregon.
The first step is deciding what you want to serve, specifically. Second, you must find a trusted bakery to create it. We certainly have traditional bakeries that provide elegant tiered wedding cakes. But what if you want a modern sculpted cake or finely decorated cupcakes? How about uniquely designed pastries, a truffle display, or a chocolate fountain? Our cake artists create personalized desserts for your rehearsal or reception, whatever your fancy.
Portland has a surprisingly wide range of bakery options to choose from. We have not only traditional bakeries but also upscale French pâtisseries. There are alternative bakeries too! Regardless of diet restrictions, Portland provides. So if you're gluten-free, vegan, or paleo, you're undeniably in the right place! We also have local, organic, and non-GMO options. Additionally, we have sustainable bakeries with eco-friendly serving options. Regardless of your needs, there's a bakery here for you to be sure!
So whether you want a scratch-made favorite or unique customized ingredients, we've got it. From rustic pies and specialty pastries to prize-winning cakes and cupcakes, you can find it here. Portland's pastry chefs have the skill and attention to detail you're looking for in a professional. With our pastry chefs, your dessert is sure to be perfect from cake topper to bottom. Let us help you with one of your most important wedding choices. We're sure you'll find what you're looking for in Portland!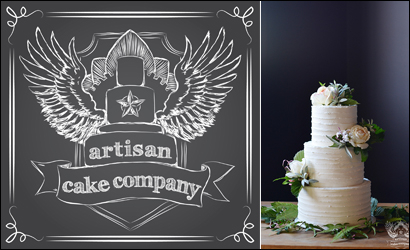 Artisan Cake Company
PO Box 7368
Beaverton, OR 97007
(503) 895-1449
Artisan Cake Company is a licensed home based bakery serving the Portland/Hillsboro/Beaverton area. We specialize in unique wedding cakes and one of a kind special occasion cakes. All our cakes are made from scratch including our delicious marshmallow fondant. Call us or email to set up a time to come in for a tasting.
www.artisancakecompany.com
The Mobile Scoop Shop
Gresham, OR
(503) 475-6695
Mobile Scoop Shop delivering hand-scooped frozen treats, such as our own sorbet-style Italian Ice and premium ice creams from a beautiful freezer mobile cart. Sundae bars, toppings and drink options available.
www.themobilescoopshop.com
Jaciva's Bakery & Chocolatier
4733 SE Hawthorne Ave.
Portland, OR 97215
(503) 234-8115
We bake a wide variety of cakes that are on sale in our shop every day, in addition to offering custom cakes for anniversaries, weddings, retirement, birthdays or any other special occasion.
www.jacivas.com
Beaverton Bakery
12375 SW Broadway
Beaverton, OR 97005
(503) 941-2259
Cakes by Laura, LLC
Salem, OR
(503) 602-0298
Cupcake Jones - Pearl District
307 NW 10th Ave.
Portland, OR 97209
(503) 222-4404
Custom Cakes by Krystle
Sherwood, OR
503-686-3841
Decadent Creations Bakery
21743 SW Kristin Ct.
Beaverton, OR 97003
(503) 430-7619
Delectable Baked Goods
Portland, OR
(971) 217-6577
Donna's Macarons
Portland, OR
(503) 757-1580
Dove Haven House Bake Shop
2239 Hawthorne St.
Forest Grove, OR 97116
(971) 361-2930
Farina Bakery
1852 SE Hawthorne Blvd
Portland, OR 97214
(971) 279-5939
FAT Cupcake - Oregon City
19273 Molalla Ave.
Oregon City, OR 97045
503-518-0110
FAT Cupcake - SE Portland
6011 S.E. 72nd Ave.
Portland , OR 97206
503-775-0731
Fleur Cakes
4359 Woodworth Rd.
Mt. Hood, OR 97041
541-490-4607
Gluten Free Gem
265 N. Hancock St., #105
Portland, OR 97227
(503) 288-1508
Helen Bernhard Bakery
1717 NE Broadway
Portland, OR 97232
(503) 287-1251
Just a Dash
20784 SW Rosa Dr.
Beaverton, OR 97007
(503) 476-6228
Killa Bites
Ridgefield, WA
(360) 635-8650
Kyra's Bake Shop
599 A Ave.
Lake Oswego, OR 97034
(503) 212-2979
La Joconde Cake Studio and Bakery
925 NW 19th Ave., Studio E
Portland, OR 97209
(503) 481-4539
Larson's Bakery
13411 SE Mill Plain Blvd.
Vancouver, WA 98684
(360) 253-4555
Laurie Clarke Cakes
455 2nd St.
Lake Oswego, OR 97034
(503) 636-2667
Le Cookie Monkey
1902 NW 24th Ave.
Portland, OR 97210
(503) 232-3848
Lux Sucre Desserts
31840 SW Charbonneau Dr., Suite H
Wilsonville, OR 97070
(503) 310-7746
M. Robin Cake Design
Portland, OR
(503) 891-1589
Mehri's Bakery & Café
6923 SE 52nd
Portland, OR 97206
(503) 788-9600
Miss Zumstein's Cakes & Desserts
5027 NE 42nd Ave.
Portland, OR 97218
(971) 279-2746
Mozer Desserts
Licensed Home Bakery
Newberg, OR
(503) 581-3737
Myriad Cake Design
765 Liberty St. SE
Salem, OR 97301
(503) 730-6026
Next Dimension Bakery
Banks, OR
(503) 530-8177
Pacific Pie Company
1520 SE 7th Ave.
Portland, OR 97214
(503) 381-6157
Pampered Palette Catering
P.O. Box 172
Parkdale, OR 97041
(541) 399-0056
Papa Haydn
Portland, OR
(503) 291-8350
Piece of Cake Catering and Desserts
8306 SE 17th Ave.
Portland, OR 97202
(503) 234-9445
Rosycakes
701 Grand Blvd.
Vancouver, WA 98661
(360) 694-6097
Saint Cupcake - Southwest
1138 SW Morrison
Portland, OR 97205
(503) 473-8760
Sewell Sweets
Newberg, OR
(971) 708-2922
Sloshy Pops
Portland, OR
(503) 841-2554
Sugar Cubed Cake Creations
101 N Main Ave.
Gresham, OR 97030
(503)887-1878
Sugar Shapes
Custom cut, hand decorated sugar cookies
Portland, OR
(360) 910-4559
Sugarhouse Cake
Portland, OR
(503) 645-9207
SweetStory Bakery
16225 SW 1st St.
Sherwood, OR 97140
(503) 822-5175
Sweetheart Bakery
sweetheartstjohns@gmail.com
St. Johns, OR
The Cakery
6306 SW Capitol Hwy.
Portland, OR 97239
(503) 546-3737
The Party Scoop
Tualatin, OR
(503) 539-0011
Toadstool Cupcakes
3557 SE Hawthorne Blvd.
Portland, Oregon 97214
Voodoo Doughnut
22 SW 3rd Ave.
Portland, OR 97204
(503) 241-4704
White Salmon Baking Co.
80 Estes Ave.
White Salmon, WA 98672
(503) 816-3926