Portland Wedding Dress & Bridal Boutiques
To find a wedding dress in Portland, Oregon, you've come to the right place. Are you looking for a designer wedding dress, a lace vintage gown, or a simple and elegant style? Every bride has her own taste. In Portland, you'll be able to find the perfect wedding dress for that sensational walk down the aisle. Portland's unique wedding boutiques offer the gamut of dress styles – from classic, to modern, to quirky, we're sure you'll find the one that fits your style and personality. Boutiques offer unique bridal veils, intimate apparel, garters and jewelry to accent your perfect dress. The Northwest's outstanding bridal and fashion consultants are at your service to help you look like a million bucks. Many bridal boutiques offer a private bridal room – so ask if one is available for your fitting.
Portland's bridal shops also offer a fabulous selection of bridesmaid's dresses, flower girl dresses, and elegant mother-of-the-bride formal wear to keep the wedding attire investment experience simple and low-stress.
On a budget, or want to recycle? No problem. We have consignment companies that offer elegant, beautiful dresses at inexpensive prices. If you're not planning to preserve your dress after the wedding, dress consignment is a great option for you and future brides alike!
Enjoy the Portland wedding boutique experience, and find the exquisite dress you've been dreaming of!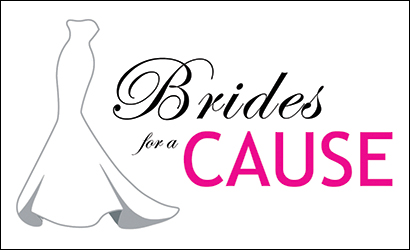 Brides for a Cause
Brides for a Cause
2505 SE 11th Ave., Suite 120
Portland, OR 97202
(503) 282-4000
Brides for a Cause is more than a bridal store – it's a bridal store to raise funds for charity! We collect and resell wedding dresses to support a variety of women-focused charities. Our bridal store features over 1,000 discounted and one-of-a-kind wedding dresses donated by high-end designers, bridal stores and individuals from around the country. Visit our bridal store in Portland or attend a Road Show!
www.bridesforacause.com
Adorned In Grace - Gresham
818 NE Division St.
Gresham, OR 97030
503-489-7087
Adorned In Grace - Raleigh Hills
4949 SW 76th Ave.
Portland, OR 97225
971-217-7001
Ania Bridal
419 SW 4th Ave.
Portland, OR 97204
(503) 796-9170
Anna's Bridal
402 N State St.
Lake Oswego, OR 97034
(503) 636-1474
August Veils
2808 NE Martin Luther King Jr Blvd., Suite 3
Portland, OR 97212
(503) 788-5280
Bridal Exclusives - Clackamas
8942 SE Sunnyside Rd.
Clackamas, OR 97015
(503) 659-3766
Bridal Exclusives - Tigard
16850 SW 72nd Ave.
Tigard, OR 97224
(503) 213-1292
Charlotte's Weddings & More
8925 SW Beaverton-Hillsdale Hwy.
Portland, OR 97225
(503) 297-9622
Claire La Faye
7804 SE Madison St.
Portland, OR 97215
(323) 684-9996
David's Bridal - Beaverton
9125 SW Cascade Ave.
Beaverton, OR 97008
(503) 646-3751
David's Bridal - Happy Valley
12225 SE 82nd Ave.
Happy Valley, OR 97086
(503) 653-9800
Elizabeth Dye
925 NW 19th Ave., Suite J
Portland, OR 97209
(603) 224-0266
Exclusively Bridal
101 E B Ave.
Drain, OR
(541) 836-2916
Lena Medoyeff Studio
710 Northwest 23rd Ave.
Portland, OR 97210
(503) 227-0011
Michelle DeCourcy
431 NW Flanders, #202
Portland, OR 97209
(503) 908-1691
Rosewood Bridal
11545 SW Durham Rd., Suite B-1
Tigard, OR 97224
(503) 603-0363
Silhouette
4225 NE Fremont St.
Portland, OR 97213
(503) 493-9391
Sincerely, The Bride
111 W 7th St.
Vancouver, WA 98660
(360) 953-8523
The English Dept.
2632 SE 25th Ave., Suite E
By Appointment
Portland, OR 97202
(503) 224-0724
The White Dress
918 SW Yamhill St.
Portland, OR 97205
(503) 206-4852
Tutus en Tournant
Bridal alterations, custom made dresses and more…
412 NE 136th Way
Vancouver, WA 98685
(360) 907-1066
Vouture - Designer Bridal Boutique
148 Liberty Street NE
Salem, OR 97301
(503) 551-0277
Xtabay Vintage
2515 SE Clinton St.
Portland, OR 97202
(503) 230-2899